A recognition ceremony was held on July 9 to highlight the "Best Government Service" award given to the Department of Health's Speech Language Pathology [SLP] team by the Best of Bermuda Awards.
At the ceremony, held at the Bermuda Aquarium, Museum and Zoo, Secretary to the Cabinet Dr. Derrick Binns congratulated the SLP team for all of their hard work and service to the community.
"The SLP team is increasing the capacity of every citizen to achieve optimal health and well-being through their entire life journey from conception through to old age," Dr. Binns said.
"It is recognized that the Speech Language Pathology team is working on many fronts to improve collaboration with parents, caregivers, and educators to provide greater clarity on intervention goals and quantify the therapeutic needs of clients.
"In short, they are helping to raise the capacity of Bermudians to live better lives."
L-R: Secretary to the Cabinet Dr. Derrick Binns is pictured with the SLP team: Maria Holder, Daryl Masters, Aprille Choudhury-DeShield [with son, Chancellor], Denise Madeiros, Natosha Raynor, Elrita Wade, Susan Price Barrett [with BoB Award], Shawnette Smith, Julie Burrows, Yvonne West, Marissa Brangman [with Sanaa Raynor], and the Director of the Department of Health David Kendell.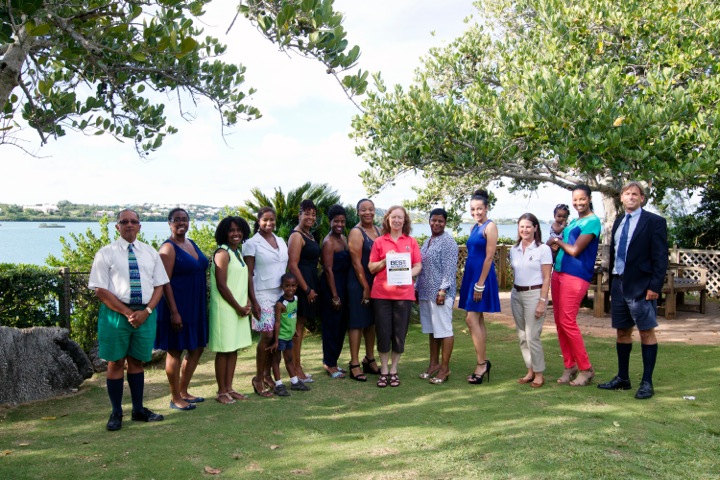 Last year, Early Intervention Speech and Language Screening and Assessment Clinics received 149 clients referrals, and 112 clients were assessed. Additionally, approximately 500 incoming P1 students received Speech and Language Screening assessments.
The SLP team also offered several workshops during the past year, including Teacher Training Workshops, Language Training Workshops, "Clearly Speaking" Articulation Training Workshops, and the Parent Training Program "It Takes Two To Talk."
"It is commendable that waitlists and waiting periods for initial assessment have been reduced," said Director of the Department of Health David Kendell. "I wish to congratulate the SLP team for all of their hard work, which has clearly paid off as evidenced by this prestigious award."
Read More About
Category: All