The Corporation of St. George's Activities Committee will be hosting its latest Movies in the Square of the summer at Kings Square on August 23, with an upcoming event still planned for September 27, 2014.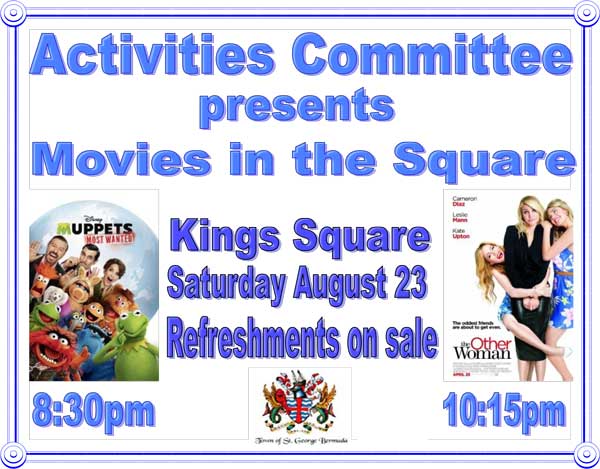 The August installation of Movies in the Square is set to feature the family film Muppets: Most Wanted, beginning at 8.30pm, followed by The Other Woman at 10.15pm. There will be refreshments for sale; those attending are encouraged to bring a chair or blanket.
Official "Muppets: Most Wanted" trailer:
The synopsis of Muppets: Most Wanted says, "Flush with their revival's success, Kermit the Frog and his friends are approached by Dominic Badguy to go on a world tour. Unknown to them, this is all part of the sinister plan of Constantine, the world's most evil frog, to become the greatest thief of all time.
"After making sure that Kermit is jailed as himself, Constantine impersonates him to use the Muppets' tour as cover for his scheme. While Sam the Eagle and Inspector Jean Pierre Napoleon investigate, the Muppets find their boss seems strangely changed even as Kermit desperately attempts to escape to stop the impostor.
"Only when Walter, Fozzie and Animal realize the truth is there a chance to prevent Constantine from pulling off the crime of the century."
Official "The Other Woman" trailer:
The synopsis of The Other Woman says, "After discovering her boyfriend is married, Carly Whitten tries to get her ruined life back on track.
"But when she accidentally meets the wife he's been cheating on, she realizes they have much in common, and her sworn enemy becomes her greatest friend.
"When yet another affair is discovered, all three women team up to plot mutual revenge on their cheating, lying, three-timing SOB."
Read More About
Category: All, Entertainment, Films/Movies