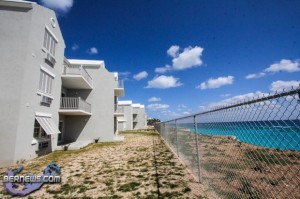 The latest attempt to displace the last remaining residents of the Grand Atlantic Development is one that "we condemn and pledge to oppose with every measure at our disposal," Shadow Tourism Minister Zane DeSilva said today.
In a statement earlier this week the Government said, ""The remaining lone occupants of the development have thus far refused all offers to relocate.
"The options given to the couple [Mr and Mrs Marshall] included an offer to transfer the family to a choice of properties valued approximately $200,000 more than their purchase price, a resale of their unit to the Government at a 35 percent return on their investment and an offer to have their unit independently appraised and purchased by the Government with costs borne by the Government. Talks continue to resolve this issue."
In response, Mr. DeSilva said, "The latest attempt to displace a Bermudian family is one that we condemn and pledge to oppose with every measure at our disposal. The Marshall family have played by the rules, worked hard and achieved a goal so many of us share; owning a piece of the rock.
"Now in a typical OBA move of money over Bermudians, they are being deprived of their home at the Grand Atlantic and forced to give up all that they have worked so hard to achieve.
"The OBA campaigned on 'a better way.'Reverting to the tactics of those who displaced Bermudians so others could profit is not a better way. Let's learn from the cruelty of the past and seek a better way.
"This move is a monumental step backwards that Bermudians must oppose. Let's broker a deal at Grand Atlantic that doesn't deprive the Marshall family and move forward with this project for the benefit of Bermudians seeking work in the tourism sector and the revitalization of our tourism product."
Read More About