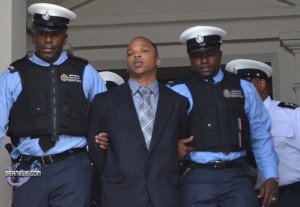 Convicted murderer Kevin Warner was today re-sentenced to life in prison with the condition he must serve 25 years before being eligible for parole.
His original sentence had mandated that he must remain jailed for 35 years before being eligible for parole.
Warner had been convicted of the May 2010 premeditated murder of Dekimo "Purple" Martin, however following a Privy Council ruling after an appeal, his 35 year sentence had to be altered.
In Supreme Court this morning [Sept 19], Justice Carlyle Greaves reduced Warner's minimum time to be served before being considered for parole from 35 years to 25 years. Warner's sentence of ten years on a firearms use charge was not changed and will run concurrent with the reduced 25 year sentence.
In July of 2011 he was sentenced to life in prison, with a stipulation he must serve 35 years before being eligible for parole. Mr Warner, then 21, would have been eligible for parole in 2046 when he would be 56 years old. The new ruling means he will be eligible for parole in 2036, when he will be 46 years old.
At around 1am on May 28th 2010, 24-year-old Dekimo "Purple" Martin was hit by multiple gunshots at his Sandys residence. In June 2010 Mr Warner was charged with the murder, with his trial starting in May 2011.
During the trial the jury heard that Mr Warner and Mr Martin — who were friends — had spent time together during the day and were seen outside talking together the night of the murder. Various witnesses were called who testified that Mr Warner had been with the victim just prior to the time he was shot, and the jury also heard that the Police found bullet casings and a driver's license belonging to Mr Warner at the scene.
The re-sentencing follows a ruling from the Privy Council in London last year [PDF], which stated that Bermuda laws do not allow for a minimum sentence over 25 years for premeditated murder and 15 years for murder, resulting in some convicted murderers having their sentences reduced.
Warner's reduction in time before being eligible for parole follows after Antonio Myers eligibility [murder of Kumi Harford] was reduced by 23 years, David Cox's [murder of Troy "Yankee" Rawlins] was reduced by 13 years, Ze Selassie's [murder of Rhiana Moore] was reduced by 10 years, while Jermaine Pearman's [murder of Shakeya DeRoza] was also reduced by 10 years.
Warner's life sentence still stands, with the change being that before he was eligible for parole after 35 years, and now he is eligible after 25 years.
- File photo
Read More About
Category: All, Court Reports, Crime, News