[Updated: Now closed] The Causeway will close at 10:00 a.m. tomorrow [Friday, Oct 17], with the decision to close the Causeway based on the forecasted, deteriorating conditions, Premier Michael Dunkley said today [Oct 16].
Speaking at a press conference today, the Premier said: "The decision to close the Causeway is based on the forecasted, deteriorating conditions throughout Friday. In the interest of public safety I am encouraging everyone to take notice of this closure and end their Causeway-related travel well before midnight tonight."
Police Commissioner Michael DeSilva explained in yesterday's press conference that after the storm, the Causeway has to be examined by structural engineers to make sure that underneath the Causeway has not been damaged.
Speaking today, Commissioner DeSilva said, "Once the Causeway closes, we cannot tell you what time it will open up because it is subject to the conditions abating and then an inspection after that.
"More generally, we encourage people to stay off the roads and certainly by the time the causeway closes, our expectations would be that everyone should be indoors and certainly not traveling by the roads."
Also, as it pertains to transportation, the last public buses will leave Somerset and St. George's at 6pm today, while ferries will end their service at 7pm.
Barriers across the Causeway after Hurricane Igor in 2010: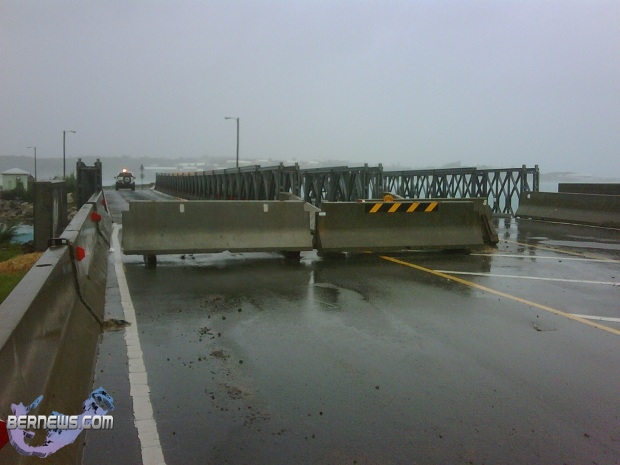 The Causeway — the only land-link between the mainland and St. George's — was opened by Governor Lefroy in 1871 and replaced the old ferry system, establishing a land route to St. George's.
It has been damaged throughout its history by hurricanes and the tornadoes they spawn, most notably in Hurricane Fabian in 2003, where four people tragically lost their lives.
For all our coverage of Tropical Storm Fay click here, for all our coverage of Hurricane Gonzalo click here, and for our live blog covering both Gonzalo and Fay click here.
Update 5.53pm: BELCO said they will have personnel located in the East End to handle emergencies there, should the Causeway sustain damage.
Yesterday, Premier Dunkley had said, "Resources have been pre-positioned at the east end of the island, including elements of the Bermuda Regiment, the Bermuda Fire & Rescue Service, the Bermuda Police Service and staffing for the Lamb/Foggo Urgent Care Centre."
Update Oct 17, 11.02am: The Causeway is now closed
Read More About