[Updated] Premier Michael Dunkley confirmed that the UK Royal Naval ship HMS Argyll is heading towards Bermuda, and will be on standby  to provide assistance should we need any after the passing of Hurricane Gonzalo.
Speaking at a press conference today, the Premier said: "Out of an abundance of caution, the Royal Navy vessel HMS Argyll is heading to Bermuda behind the storm and is available to provide considerable, skilled assistance should we have the need after the hurricane passes Bermuda."
In addition, BELCO has confirmed that power company crews from Barbados, British Virgin Islands & Dominica also on standby to come and assist with restoration efforts if needed.
The HMS Argyll is pictured below during a past visit to Bermuda: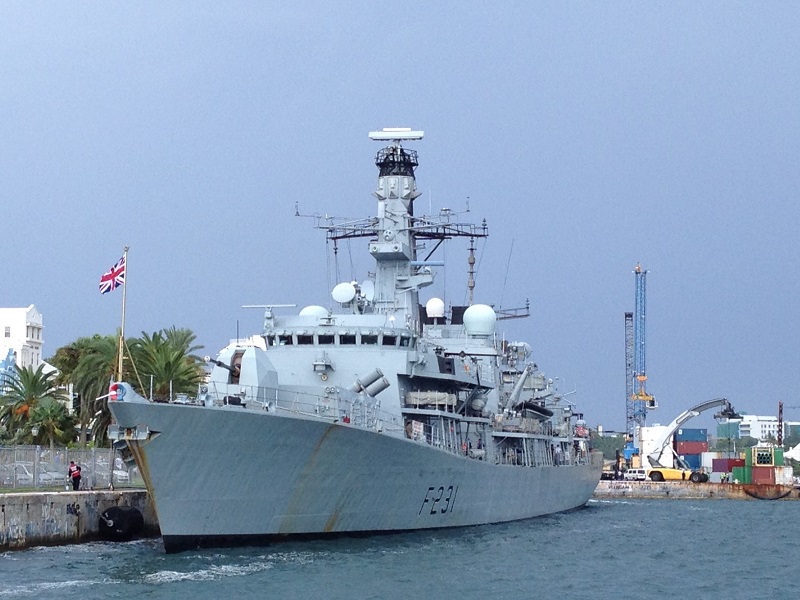 For all our coverage of Tropical Storm Fay click here, for all our coverage of Hurricane Gonzalo click here, and for our live blog covering both Gonzalo and Fay click here.
Update: Regiment CO Lt Col Michael Foster-Brown said the Royal Navy's HMS Argyll and its crew of more than 180 sailors plus a Lynx helicopter was steaming towards Bermuda, with up to 90 sailors potentially to be based at Warwick Camp to help with storm recovery.
Col Foster-Brown said, "The helicopter can project forward 200 miles and could arrive in Bermuda on Saturday, with Argyll following on Sunday.
"Regiment soldiers have trained in aircraft operations on overseas deployments and it will be a very useful addition for things like damage reconnaissance of the Island and casualty evacuation if necessary."
Read More About