Bermuda CableVision this morning [Oct 9] recognised five leading, local food companies with its quarterly Community Service Award.
Lindo's Family Foods, Butterfield & Vallis, Garden Market, Hunts Food & Supplies and Arnold's Markets were honoured for participating in CableVision's "Open Hands Loving Hearts" food drive. The award ceremony was held at the Bermuda Underwater Exploration Institute.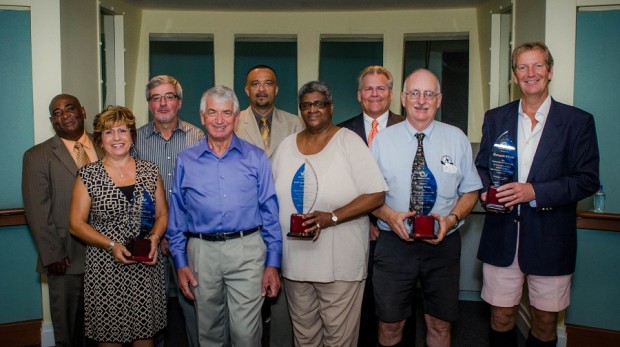 Each company collected food for the less fortunate by placing CableVision's big blue barrels at their locations, and the community was encouraged to donate non-perishable food items. Fourteen barrels were filled with food, each weighing nearly 400 pounds.
The food was distributed this summer among several non-profit organizations including the Eliza DoLittle Society Food Bank, The Seventh-Day Adventist feeding programmes and the Coalition for the Protection of Children.
Bermuda CableVision launched its "Open Hands Loving Hearts" food drive in April 2013. Since then, dozens of schools, businesses and churches across Bermuda have participated.
Minister of Community, Culture & Sports Wayne Scott said, "I commend these local companies for their generous donations toward the food drive. Because of their support, charitable organisations in our community can continue to supply food and goods for people in need.
"On behalf of the Government of Bermuda, I'd like to thank CableVision and the companies receiving the Community Service Award for caring for their fellow citizens."
Terry Roberson, CEO of Bermuda CableVision, comments: "I would like to thank everyone for selflessly helping us with our "Open Hands Loving Hearts" food drive. Together, we're helping those who are hungry in Bermuda, and Bermuda CableVision is proud to be a part of this community's generous spirit."
Read More About
Category: All