The Berkeley Institute recently held its annual Prizegiving Ceremony to a standing room only audience in the school cafetorium.
Principal Dr. Phyllis Curtis-Tweed celebrated the achievements of Berkeley students over the past academic year, telling them that their accomplishments exemplify the tenets of the school's mission.
She encouraged them to continually move toward the realization of goals, a pursuit that is immortalized by the school motto "Respice Finem, Keep the end in View."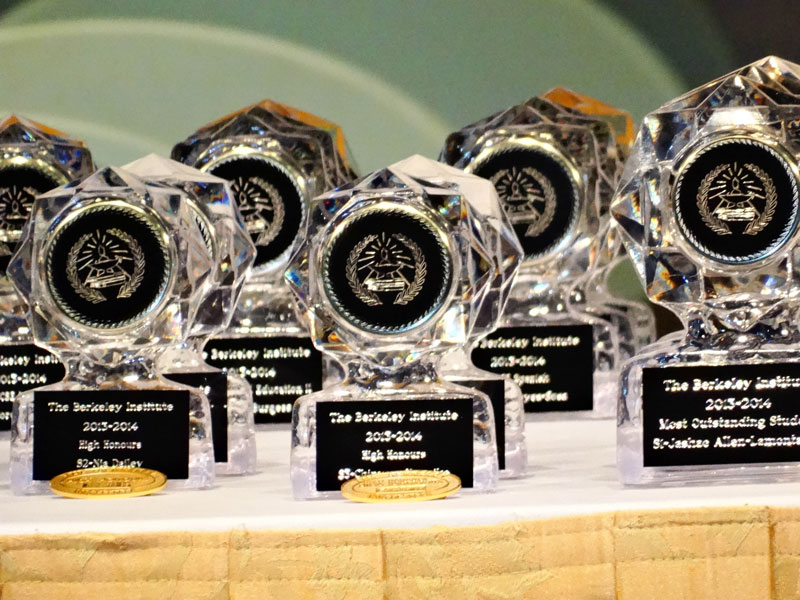 The Chairman of the Berkeley Board of Governors, Mr. Craig Bridgewater, informed the audience that The Berkeley Institute is working toward the fulfilment of goals as contained in the newly drafted Strategic Plan 2014-2018 which includes the promotion of the Berkeley identity in terms of leadership, self-pride, and positive character development; effective teaching and learning; and the provision of educational opportunities and partnerships that speak to the needs of all students.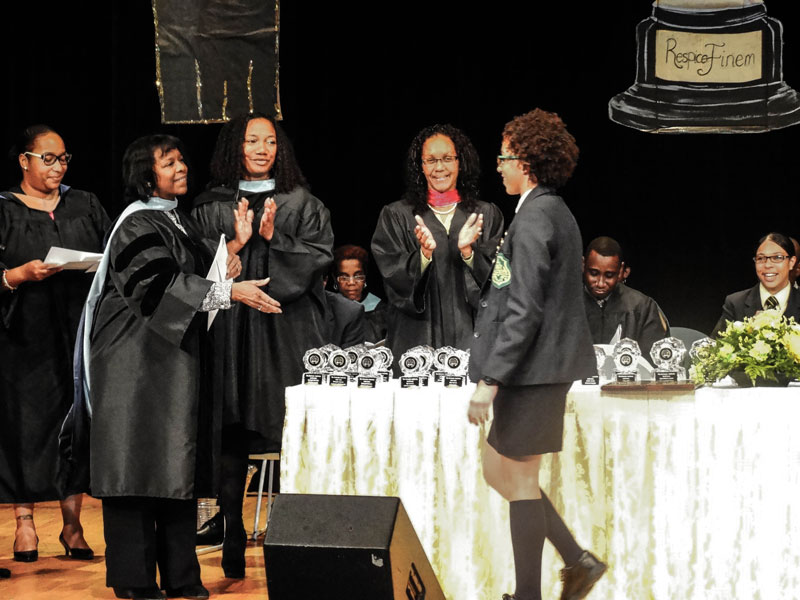 Principal's Honour Roll student Jordan Bascome compared her accomplishments as a student to her success on the track field. She talked about the importance of preparation, perseverance, being involved, and encouraging one another but simultaneously remaining true to the development of one's own character, potential and skills. She encouraged her peers to find and pursue their passion.
Additional Honour roll students also figured prominently in the programme. The welcome was given by Stephane Nkeuleu; the opening prayer was offered by Chinyere Nwasike; the keynote speaker was introduced by Chelsea Ray; and Kimika Jackson made a presentation to the guest speaker and reflected to the speaker's key points communicated to all assembled. All student participants were either Principal's Honour roll or High Honour roll students for the past academic year.
The Keynote speaker was Christa Schweizer, alumna of The Berkeley Institute class of 2005, who was recently called to the Bar by the Honourable Ian Kawaley. Ms. Schweizer inspired students by sharing her keys to success: focus, preparation, goals, mentoring, and networking.
The end of the night saw the dissemination of more than 100 awards to students for academic achievement, community service, and special awards for Citizenship and Character. Newly appointed prefects also received their prefect pins and the announcement of Green and Gold House Captains elicited an enthusiastic display of school spirit.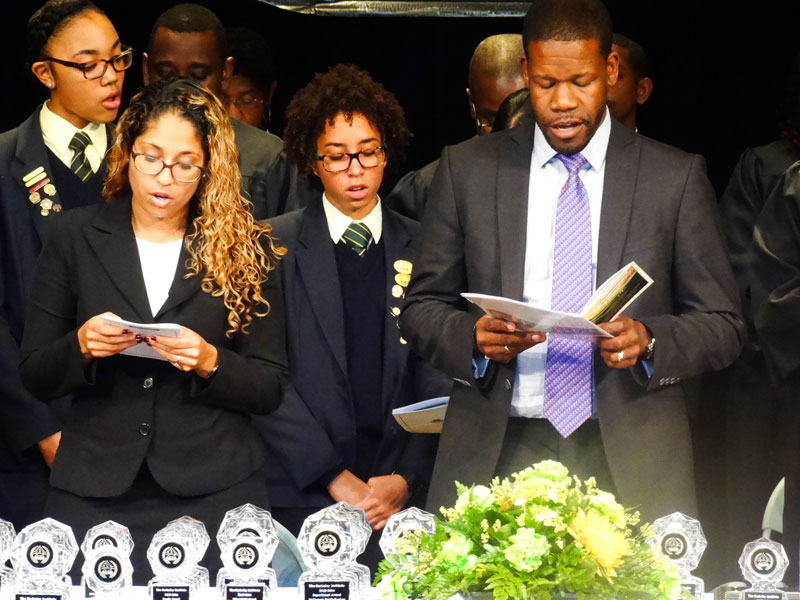 A school spokesperson said, "The Berkeley Institute continues to promote development of the whole person both academically and socially. In the 2013-2014 academic year, our population of 689 students accumulated more than 5000 hours of community service. Given that the government graduation requirement is only 20 hours per year, this is an amazing accomplishment. The community spirit of our students is to be commended.
"Harvesting Excellence is a more than appropriate theme for this year. The Berkeley Institute is proud to report an approximately 90% A*-G pass rate for the more than 400 students sitting over 800 exams. Last year's S2 class earned more A*-C scores than in previous years. The following students scored A*-C in 4 or more subjects: Kyrsten Burrows, Dejanée Hill-Edwards, Kimika Jackson, Imani Smith, and Aston Tannock."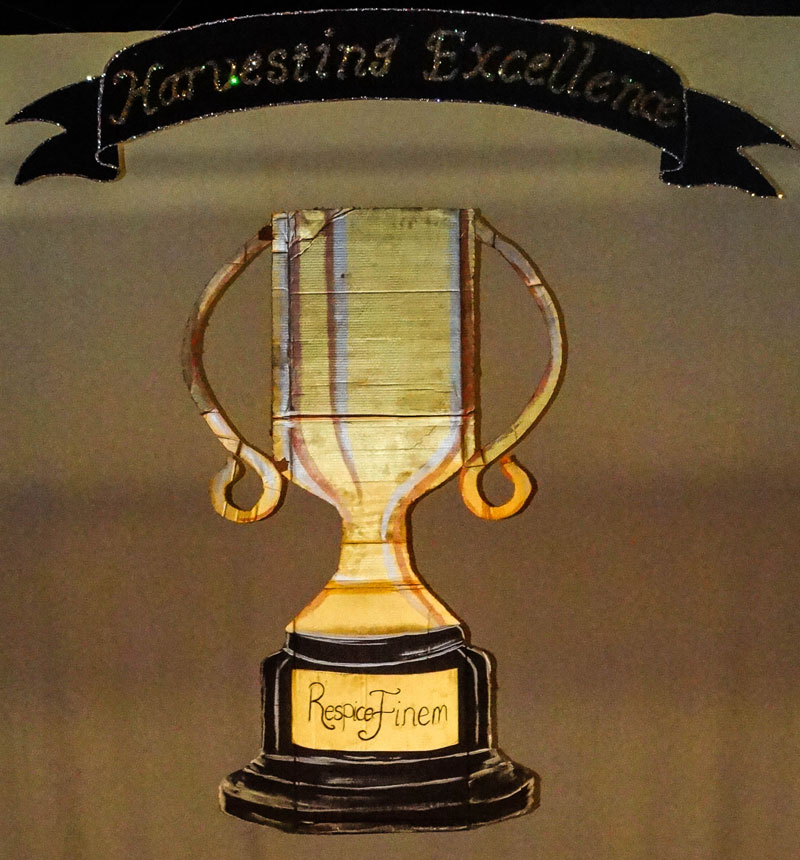 "S2 students also scored A*/A in single subjects: English: Matteo Donowa, Amari Ebbin,and Amon Wedderburn; P.E.: Nasaj Burgess. A notable mention is given to Zahra Gibbons who earned an A* and A in English and PE respectively as well as Krishunna Brawell , Nia Dailey and Kyle Thomson who scored A- C in two or three subjects.
"Some S1 students tested one year early and earned an A*/A in English or Spanish: English: Sacara Phillips and Hydia Scott-Riley; Spanish: Maria Reyes-Sosa and Larussy Romero.
"In addition to the IGCSE/GCSE accomplishments, there are 28 students in the S3 and S4 years who are taking courses as dual enrolment students at the Bermuda College. It is notable that 6 of these Berkeleyites are enrolled as full time students.
"Two of our top S3 students, Kyrsten Burrows and Youth Premier Dejanee Hill-Edwards have the distinction of being the first S3 Berkelyites to enrol in a college degree program while in senior secondary school. If they continue this course of study they will earn both an Associates' degree and their senior secondary school diploma simultaneously.
"The Berkeley Institute is retaining the best of its socio-historical and cultural legacy while setting new standards and yes, harvesting excellence! Respice Finem!"

Read More About