Alternative capital is likely to be a long-term feature of the reinsurance marketplace but the industry must remain alert to the dangers of separating risk from capital, according to several members of a panel of CEOs drawn from both sides of the Atlantic to debate the new normal in financial services at the Bermuda Monetary Authority's 2014 insurance seminar on 4th December.
John Nelson, Chairman of Lloyd's of London, warned against what he described as temptations of "a continuous challenge" in the alternative capital market while Mr. Mike McGavick, CEO, XL Group called for a renewed focus on measures to enhance "trust in the system".
Mr. McGavick told the close to 400 seminar attendees at the Fairmont Southampton resort: "I think the likelihood of it [alternative capital] evolving into something less stable or abusive is real and this is the thing we really all ought to be thinking about because that drives to the heart of trust in the system and we don't need distrust in our system," he said.
"There's opportunity for there to be new clashes in exposure that are unrecognised and when they come due are un-payable. And in essence this is the story of the real estate crisis and that is the risk here because the risk is being removed from those that took the risk. The advantage of the integrated model is you're betting with your money. That changes how you feel about it."
Mr. Nelson, who had earlier provided an opening keynote address said, "It's going to be a continuous challenge, that as the alternative capital market develops, the temptation to detach the risk from the capital becomes ever greater and there will be kinds of securities where the returns look really alluring but if we do that we will destabilize the whole thing exactly as happened in sub-prime mortgages."
Frank Majors, Co-founder and Principal, Nephila Capital said: "This development of alternative capital does have the possibility for concern, or abuse, or misuse, or being taken too far in the future. Right now I would just like to make the point that the effect of the alternative capital is to actually de-lever the industry significantly.
So it's very different right now, in this stage of development, very different from the mortgage securitization which was a process of adding leverage. What it really is, is taking a risk off of levered balance sheets onto unlevered balance sheets."
Mr. Majors said he did not think of alternative capital as "a new group of people showing up at the party", but rather as a technological channel to more pools of capital. "If you have access to deeper pools of capital that should add stability, unless it's abused in some way," Mr. Majors said.
Andrew Bailey, Deputy Governor, Bank of England and CEO, the Prudential Regulation Authority, pointed out that it is not part of a regulator's role to prevent entry into an industry. "So the fact that there is capital coming into the industry is not something that we should react adversely to," Mr. Bailey said.
Pictured from left: Fiona Luck, Member of the BMA Board of Directors; John Nelson, Chairman, Lloyd's of London; Mike McGavick, CEO, XL Group; Frank Majors, Co-founder and Principal, Nephila Capital; Dennis Mahoney, Director, Ironshore Inc.; Brian Duperreault, CEO, Hamilton Insurance Group; Andrew Bailey, Deputy Governor, Bank of England and CEO, the Prudential Regulation Authority.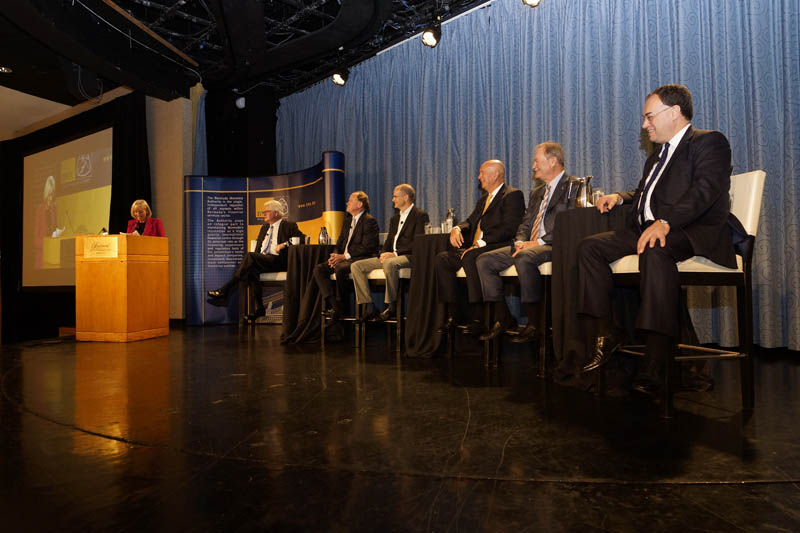 "One of the things we're concerned about is underwriting standards and we're obviously also concerned about the robustness of the management of risk and the spreading of risk, so those should be the points of our focus to ensure that, given we have new capital coming in, that the process maintains the prudential standards we expect."
Institutional investors definitely think of catastrophe risk as an asset class, Mr. Majors said – to which Mr. Bailey replied, "In a world with persistent very low interest rates, the emergence of alternative asset classes was entirely logical."
When asked by panel moderator, BMA Director, Fiona Luck, about disputes in the catastrophe bond space, Dennis Mahoney, Director, Ironshore Inc. said there were six outstanding major disputes going on but that was on par with standard reinsurance products.
Asked whether traditional reinsurance had been effectively redefined, Brian Duperreault, CEO, Hamilton Insurance Group said: "I just think the world of insurance today [Dec 10] is such that you don't have pure reinsurers anymore."
"The alternative capital and the ILS market in particular, have gravitated to the big bang cat," Mr. Duperreault said. "The reasons for that, rates on line match nicely with interest rates, non-correlation, and etcetera. If it breaks out of that, and one would assume over time that happens, it gets into a messier area of the insurance business where it's not as simple."
Mr. McGavick said underwriters had recently become more involved in the process of matching risk to capital in the alternative capital space. "That is a changing dynamic which is very positive because it reminds us that underwriting is still at the centre of the art," Mr. McGavick said.
Concerning cyclicality, Mr. McGavick said, "One thing about insurance, I can guarantee every time there is more capital than there is available risk, we will skeeter off into inadequate pricing. It will happen every time. It's a combination of human optimism and the fact that we are the only industry we know of where we don't know the cost of goods sold. We just don't know and we will screw up, go over cliffs and need to recover."
Mr. Mahoney said one of the big questions is whether a rise in interest rates would cause the new capital to migrate elsewhere. "It needs to be there for the long haul," Mr. Mahoney said.
To round off the comments about alternative capital, Ms. Luck asked Mr. Nelson whether Bermuda had stolen a march on Lloyd's in becoming a global centre for alternative capital. "I think Bermuda is anincredibly healthy, vibrant insurance market," Mr. Nelson replied.
Read More About