[Updated: Police confirm that there was a shooting outside Somerset Cricket Club, and said that four men were injured]
Following the shooting in Devonshire earlier today [Nov 11], we are now receiving reports there has been another shooting, with unofficial reports indicating that this one took place a few minutes ago in Sandys.
Details are limited at this time, however we will update as able:
Update 7.20pm: Unofficial reports indicate that this is a serious situation, we expect to have more confirmed details shortly.
Update 7.32pm: Unofficial reports indicate that multiple ambulances have been called………in addition, police are present outside the hospital, which generally occurs when shooting victims are brought in. Unofficial reports indicate multiple shots were fired.
Update 7.37pm: Police Media Manager Dwayne Caines said, "The BPS can now confirm that there was a firearm incident that took place outside of the grounds of Somerset Cricket Club.
"It appears that three persons have been injured and their condition is unknown."
"It is an active police scene, and we will update the public as able," Mr. Caines added.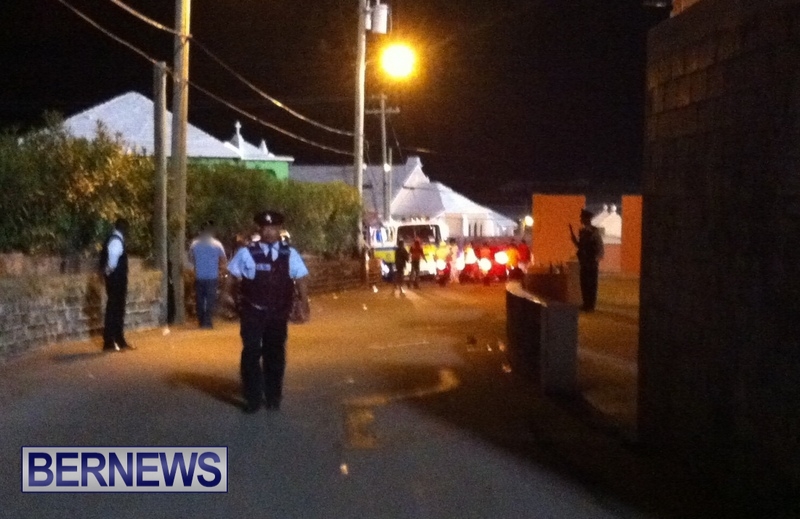 Update 7.51pm: The very visible police presence remains outside the hospital, and unofficial reports indicate the victims were transported via a combination of private vehicle and ambulances.
We have seen two ambulances rush in, and we see the heaviest police presence outside the hospital we have ever seen following a shooting……..we even see what appears to be armed police officers.
Update 8.27pm: There are alot of people on scene…….bystanders…..we don't want to post a photo as they may be witnesses/have other privacy concerns, but there are quite a few people milling about. We expect to get an official update from the police soon.
Update 8.38pm: The police are now holding a press conference at the scene…
Update 8.50pm: Police are now confirming that four people were injured.
Update 9.03pm: The full police statement is below
Around 7:10pm on Tuesday November 11th , police and first responders attended a report of gunshots in the area of Somerset Cricket Club in Sandys.

Four men were injured and conveyed to King Edward VII Memorial Hospital via ambulance and their conditions at this juncture are unknown.

Witnesses or anyone with any information is encouraged to contact the main police number at 295-0011, or the independent and confidential Crime Stoppers hotline on 800-8477.
Update 9.41pm: The Fire Service confirmed that they were "flagged down" while en route to Somerset Cricket Club by a member of the public who was transporting a victim….and they stopped to assist.
Update 9.47pm: Shadow Minister of Public Safety, Walter Roban said, "Today's shootings are a painful reminder that laws and policing are not enough to stem the scourge of gun violence.
"Bermudians of all walks of life share our disgust, outrage and anger at today's events. Despite this, we must come together, work with the Police and identify solutions that address the root causes of our young men targeting each other for death.
"Our prayers are with the victims of the shootings and their families and we urge calm in spite of these horrific acts."
Update 9.49pm: We will post a video later with statements from the Police, Fire Service, SCC President Alfred Maybury, as well as Somerset MPs.
Update 12.57am, Nov 12: The full Bermuda Fire & Rescue Service statement is below.
The Bermuda Fire & Rescue Service responded to an incident at Somerset Cricket Club where there was reportedly multiple gunshots fired and persons were injured.

While firefighters were responding they were signaled to stop and assist one victim, who was travelling in private transportation. They assessed and treated this victim who was then transported to KEMH in a private vehicle.

On arrival at the club, firefighters then assisted with the assessment and treatment of another patient prior to being transported to KEMH via ambulance.
SCC President Alfred Maybury, and Somerset MPs Michael Scott & Dennis Lister
In a post on social media, Sandys South candidate Jamahl Simmons said, "Tonight, MP Michael Scott and I went to the Somerset Cricket Club alongside area MP Dennis Lister in the aftermath of this senseless shooting. The community is upset and angered by what has happened and we remain hopeful that calm may be restored and that this violence will not beget further violence.
"We must all work together and find a way to get at the root causes of this and end the cycle of violence. Our prayers are with the victims and their families."
Premier and Minister of National Security Michael Dunkley expressed his shock and concern, saying "While most Bermudians were observing this Remembrance Day the holiday was denigrated by the reckless and callous actions of a few.
"These latest shootings remind us that this issue of gang violence continues to demand our undivided attention as leaders, citizens and as a community who wants the best for our young people.
"As the police devote all necessary resources to the investigation of these crimes, I renew the call for anyone with information to make contact with the Police directly or via the anonymous CrimeStoppers hot line. If you know something, say something."
Sandys MP Dennis Lister said, "This incident strikes at the very heart of our community and taken Remembrance Day 2014 and turned it into a day that each of us wish we could forget. Our prayers go out to the victims and their families as we condemn this horrible act of violence."
"The Somerset Cricket Club is a public place, a place where our children play and learn about the sports we all love. At this time it would be understandable if many began to feel that nowhere is safe. Yet we must stand up, speak out and fight to preserve the peaceful Somerset community that we all believe in. We must remain calm, assist the police in their investigations where possible and pray that these shootings do not escalate into further violence."
Sandys MP Michael Scott added, "Like most members of our community I am shocked and outraged by tonight's events. We alongside MP Kim Wilson and Jamahl Simmons support area MP Dennis Lister and will assist wherever we can to maintain calm and restore peace to our community. We recognize that this is not just a matter for the police, but will require all of us pulling together and working towards solutions that address the core causes of these violent acts."
Anyone with any information is encouraged to contact the main police number at 295-0011, or the independent and confidential Crime Stoppers hotline on 800-8477.
Read More About