Imagine Bermuda, in collaboration with the Department of Community and Cultural Affairs and the Chewstick Foundation, is getting set to present a celebration of the 120th anniversary of the birth of national hero Dr. E.F Gordon on Friday [Mar 20] at City Hall between 12.00pm and 1.00pm.
The program at City Hall will include presentations, music, and spoken word by students from Berkeley, Bermuda High School for Girls [BHS], CedarBridge, Mount Saint Agnes, and Saltus. In addition to this focus on youth, the event will feature the iconic Gene Steede.
Mural of Dr. E.F. Gordon on the BIU building done by Chewstick earlier this year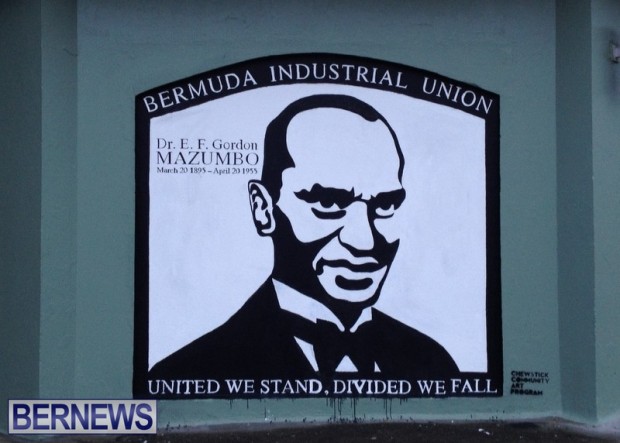 A spokesperson said, "This celebration is in appreciation of the person, as well those many residents who played a part in the movement that he inspired. Dr Gordon's courage and selflessness galvanized that movement which paved the way for a democratic Bermuda.
"In 1944, Dr. Gordon responded to a request from artisans building the U.S. Bases, who had formed the Bermuda Workers Association [BWA], to address matters of pay. With visionary leadership, he expanded the conversation to address the big picture.
Audio of a 1946 speech by Dr. E.F. Gordon, courtesy of the BIU:
"At a time when the electorate was restricted to less than 3,000 voters, that movement involved more than 5,000 residents considering a variety of issues. The matters of pay, segregation, education, health and the right to vote were addressed in a petition which Dr Gordon took to London in 1946.
"Never considered a saint, this complex physician demonstrated his commitment to ordinary people. Born in Trinidad, his passion and personal sacrifice for our island played a key part in providing the foundation upon which we all stand today."
Read More About