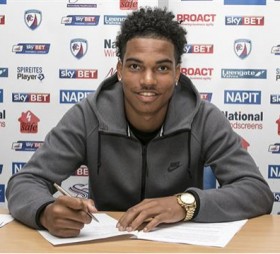 Bermudian Rai Simons was recently signed by English League One football team Chesterfield, with the young footballer saying he has dreamed about this day and "for it to actually happen is the best feeling ever."
The marks the first professional contract for the 19-year-old footballer, who plays for Bermuda internationally, and scored in Bermuda's 2-2 draw with Grenada last month.
When asked how he expected the signing to effect his development, Mr. Simons told Bernews, "Chesterfield felt like the right move for me to get the development necessary. They are a great footballing side playing some amazing football.
"Also they aren't afraid to give young players a chance when it is earned. One of the first things the manager told me when I got there was to be myself, let my game do all the talking for me.
"How my time goes depends on how well I do and that's the most encouraging thing for me to hear after making such a big leap up."
When asked about the differences between playing in Bermuda and the United Kingdom, the 19-year-old said, "Playing in Bermuda is a completely different way of playing than it is in England. But if the perfect blend of both sides like what I'm still working on is found, the results could be tremendous.
"Bermuda football is known for the flair playing, expressing yourself & your ability. While in England it's more about hard work & having a never die attitude for 90 minutes & beyond. If that mix is split 50/50 who knows what can happen.
"Playing for my country at home is always a great feeling & experience for me, especially at senior level. Football has the power to bring together the entire nation to become united again as a whole, and being a part of that is humbling.
"It's not many feelings that are better than hearing your own people screaming to cheer you on.
"It just make it that much more special, especially when scoring the goals like I did against Grenada."
When asked who and what has inspired him along his journey, Mr. Simons said, "I have a lot of football icons that have inspired me. Internationally the likes of Ronaldinho, Messi, Zidane, Henry, Ronaldo [Brazil] showed me how beautiful this game can really be if you work hard to master the craft.
"But my biggest influences came from down Bernard's Park as a youngster playing for North Village. My daddy, Arthur Simons, is the reason why I am a footballer. From before I could even walk he gave me a ball telling me that one day I will become a professional & never ever stopped pushing me to be the best I can.
"Also everyone at North Village who I consider my second family, Players like Kavon Keith and Jemiko Jennings, just to name a few, who I grew up supporting and looking up to who took me under their wings as little boy.
"Those are the reasons why I'm still in love with football now."
When asked if he had any advice for up and coming Bermuda footballers who want to follow in his footsteps, Mr. Simons said, "My advice will be to if you really want to achieve anything you have to be willing to sacrifice and commit 100 percent. Nothing worth achieving in life is handed to you.
"You have to be willing to do whatever it takes for you to make sure you are the one that deserves whatever it is that you want more than all the millions of other people in the world that want the same exact thing."
Read More About