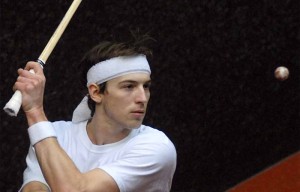 Following their success in the U.S. Open Rackets Doubles Championships in Chicago last month, Bermuda's James Stout and his partner, Jonathan Larken, won the British Open doubles title over top seeds Nick James and Ben Snell by four games to love at Queen's Club, London [15-5, 15-1, 15-8, 15-11].
The second-seeded pair made short work of their opponents in a match which lasted fifty-five minutes on Sunday [Apr 19] .
Stout and Larken's play was characterised by consistent attacking, hard hitting and clinical finishing. Snell and James struggled with the pace and with Stout's service, an area of his game he has been working on.
Snell and James got off to a good start in the first game, with a 3-0 lead, and then put Stout and Larken out without conceding a point. They increased their lead to 4-0, before Stout and Larken regained service.
Stout and Larken went ahead 6-4, but Snell and James recovered a point before they were put out at 6-5 down. Stout then served through in one hand to win the first game 15-5, in twelve minutes.
The second game saw Stout and Larken go ahead 2-0 before Stout was put out. Snell and James scored a point on their service before they were put out. Stout resumed service and served through to 15-1 in one hand.
Both Nick James and Ben Snell struggled with Stout's service, as he scored a number of aces. Larken didn't serve in the second game which lasted only eight minutes.
The third game lasted longer, fourteen minutes, but Snell and James let their opponents get too far ahead and were always playing catch-up. Stout and Larken went ahead 2-0, Snell and James pulled it back to 2-1, then Stout served through to 6-1 and was put out.
Larken then served through to 10-1 before he was put out. Snell and James recovered to 5-10 before losing service. Stout and Larken took the score to 13-5 before Snell and James mounted a late challenge and recovered to 13-8 down. Stout and Larken regained service and Stout served through to win that game 15-8.
The fourth game was the most closely contested lasting sixteen minutes and with Snell and James leading 10-7 at one stage. This was the biggest lead either side had held in this game, as each side struggled to score more than one point whenever they had service.
Snell and James turned a 5-6 deficit to an 8-6 lead in one hand, put out Stout and Larken with the loss of just one point and then moved ahead to 10-7.
Stout was then put out without scoring but Larken enjoyed a run of 6 points to put victory within his side's reach at 13-10. Snell and James could only muster one point in answer, and Stout served out the game from 13-11 to 15-11 in one hand.
The match was played at a fast pace and Larken and Stout made fewer errors and coped with the speed of the ball much better than their opponents.
The match was live streamed and the 1hr and 20 min replay is below
The winners had played a tough semi-final on Friday [Apr 17] against third seeds Richard Owen and Tom Billings, and won by four games to three in a match which lasted three hours. Having narrowly lost the fifth game 18-17, Stout and Larken found themselves down three games to two.
However their experience was the telling factor over their younger opponents who have been making a name for themselves in rackets circles over the past year.
Stout and Larken claimed the last two games 15-5 and 15-8. By contrast Snell and James secured a less stressful four-nil win over fourth seeds, Harry Foster and Mark Hue-Williams.
Sunday's victory places Stout and Larken in second place in the Elite Doubles rankings, and in first place for the World Doubles Championship Challenge.
In addition to his U.S. Open and British Open doubles titles, Stout is the U.S. Open, British Open and World singles rackets champion.
Read More About