Troika Bermuda is getting set to host 'FYE!,' a 90-minute Young Choreographers' Showcase that promises to be "a creative and explosive presentation."
A spokesperson said, "Troika is a registered charity whose mission is to educate, enlighten and entertain by producing significant theatre experiences, presented by a creative ensemble of the highest professional quality and created especially for young people and their families.
"We believe that art, fun, and education must work hand-in-hand to cultivate young minds and offer opportunities for them to learn from the history, life lessons and values presented through dramatic art, dance, and song.
"As part of our charitable pillars, on Saturday, April 4 at The Earl Cameron Theatre [City Hall], we will be presenting "FYE!" our second Young Choreographers' Showcase. This 90 minute showcase will be a creative and explosive presentation highlighting the choreographic talents and passion for dance by Bermuda's young people. Through this initiative, young performers will be encouraged to strive for their own artistic excellence.
"This initiative will also support youth participation in all genres of dance. Thus far we have received submissions from a diverse group of young people in dance genres representative of hip hop, ballet, tap, modern, dancehall, inspirational and salsa."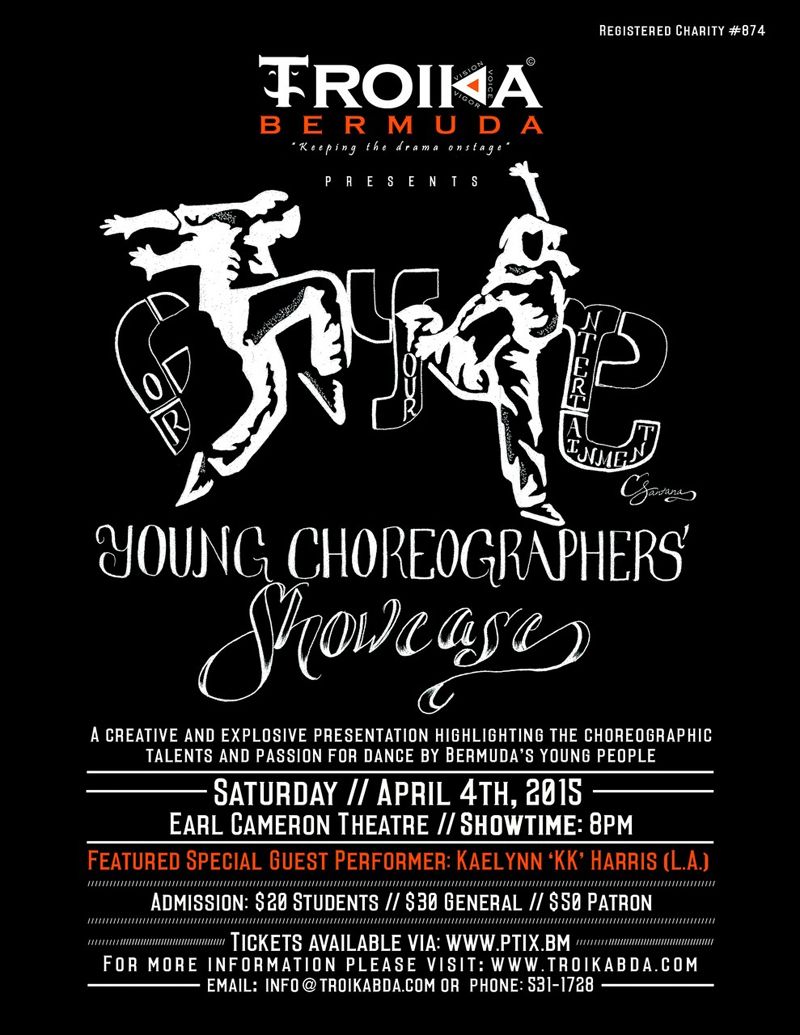 "The international instructors that participated in last week's groove event have also submitted pieces for the showcase, including Sean Bankhead of ATL, Neeks Money of Toronto, and a special guest performance by Kaelynn 'KK' Harris. Their work includes choreographing for concert tours, feature films, music videos and commercials.
"They have worked with artist such as Beyonce, Britney Spears, Rihanna, Ciara, Usher, Janet Jackson, Fifth Harmony, Pharell, Fergie, Diddy, Beenie Man and Sean Paul to name a few. These featured submissions will also run alongside many talented young Bermudian choreographers.
"The showcase will be lively, interactive and require fun audience participation. Each of the young choreographers' twitter account names will be listed next to the piece that they have choreographed. Audience members would be encouraged to tweet their direct comments/feedback about each piece to the respective choreographer while tagging their account name and utilizing the hash tags provided.
"Tickets are $20 for students, $30 for general admission and $50 for patrons. Space is limited and seating is assigned; purchase tickets early to avoid disappointment at the door.
"Tickets can be purchased now via www.ptix.bm. For information, visit www.troikabda.com or email info@troikabda.com. Please don't hesitate to contact us should you require further information about this event."
Read More About
Category: All, Entertainment