Five of Bermuda's middle school basketball players from the Wolfpack Elite Training Programme have been selected to participate in the invitation-only John Lucas International Middle School Combine.
A spokesperson said, "The IMSC camp is held every year near Houston, Texas and is by all accounts the top basketball event for elite middle school talent each year. This event can only be attended by invitation by John Lucas, a former NBA player and coach or his staff of former college coaches who invite roughly 150 of the best middle school players from around the world, before only accepting the first 100 to register for the event.
"The IMSC hosts the top college basketball scouts, coaches, and every major ranking service across the United States and will have on average 6-7 McDonalds All-American committee voters watching the kids before they ever play a single high school game.
"The best of the best are trained and tested in Texas during the two day event and many of these players go on to play college and professional basketball."
Mr. Lucas said, "The eighth grade is where it all starts for kids and the [college] recruiting process. We have had all of the national ranking people here to watch and talk to them, along with lots of college coaches, and a panel of college players to give them insight into the high school and recruiting process for the next four years.
"This is by far the best competition. We have thirty-seven 6'4" or taller players here who are really extraordinary. There is a criteria to get invited here and a criteria to compete here. I am not necessarily trying to get the best players.
"I am trying to get the best kids that want to be great citizens first then the best basketball players."
The five Bermudians who have been invited to the prestigious camp include Caelin Peters, Kobie Reid, Ryan Grant, Miguel Perry, and Malachi Dates.
"Malachi Dates is a student from Clearwater Middle School. Malachi is big, strong, and quick with real potential and upside. Malachi was an all-star selection last summer at Keystone State Camp in Pennsylvania, and won the MVP for his team in the losing effort of the BSSF Middle School Championship game in March.
"Malachi led his team to defeat and upset the nine-time champions at Warwick Academy in the semi-finals."
Coach Chris Crumpler, Kobie Reid, Miguel Perry, Malachi Dates, Ryan Grant, Caelin Peters, and Coach Jason Lowe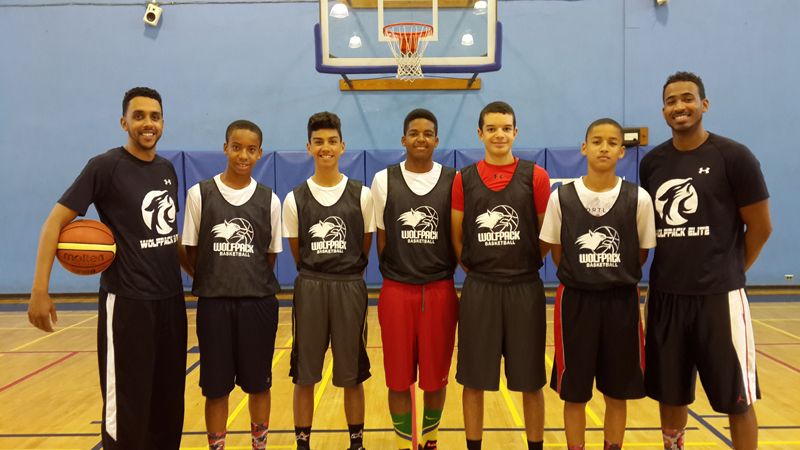 Miguel Perry attends Warwick Academy and is one of the best shooters in Bermuda. Miguel "played-up" last summer as he was selected to represent Bermuda's U16s team even though he was only twelve years old at Keystone State Camp and led the team in scoring in their first victory in international play. Miguel is a solid player who defends and rebounds well and has one of the highest basketball IQs out of all of our youth players.
Ryan Grant is also at Warwick Academy and started playing basketball twelve months ago. In that short time he has become one of the best middle school players in Bermuda which is a testament to the rapid development that players get in the Wolfpack Elite programme. Ryan is tall, long, and shoots the ball well. There is a lot of upside with Ryan and his size and work ethic are especially good as a developing player.
Kobie Reid is a student from Mt. Saint Agnes and a lefty combo guard. Kobie was selected as the MVP of the BSSF Middle School Championship game after leading the Saints to their first championship in over ten years. Kobie won the Wolfpack Fall league last year by hitting three consecutive free-throws at the end of the game in the playoffs and this year he scored the final four points for his team to win the BSSF middle school final.
Top Middle School Basketball Players Battle at John Lucas Camp 2014
Caelin Peters, is also a student from Mt. Saint Agnes Academy and was the first middle school player in school history to play for the MSA varsity high school team. Caelin was an all-star selection last summer at Keystone State Camp in Pennsylvania, was selected as an all-star in the BSSF high school league, and most recently won the MVP of the CellOne Island Basketball league which is the adult men's basketball league in Bermuda. Caelin is already scheduled to attend prestigious camps at John Lucas, Five-Star Basketball, and Point Guard College this summer.
Traveling with Bermuda's Fab Five will be the Director of Wolfpack Hoops, Coach Charles Peters who shared his thoughts about the event, "One of the best things about our kids from Bermuda is that they are all highly coachable and very well-mannered, which is something that the scouts, coaches, and experts look for in future college athletes.
"Our programme focuses on developing individual players both their basketball skills but more importantly their character and not just building the best team. We have had kids come to us because they play on teams where one or two players are highly favored and they have been limited by their coaches in terms of playing time, or what types of shots to take in the game.
"At Wolfpack Elite we take off the restraints that other coaches put on players who are more focused on winning games. Our job is to build a total player and to create opportunities for our players to be recruited."
"For five of our young players to get invited to this event says that our efforts to build a world-class programme are starting to get noticed. Wolfpack Elite only attends events that provide real opportunities for players to meet college coaches and scouts who are certified to recruit scholarship athletes.
"Later this year we will be taking our high school players away to participate in AAU and NCAA sanctioned events which will provide them with similar exposure and opportunities to play in front of college coaches. We are confident that our players who have been training at an elite level with us all year are ready to make their mark at the IMSC."
The Wolfpack Elite training programme is a total player development programme that is focused on building athletes that are capable of playing at the college and professional levels. All of the coaches from the Wolfpack Elite programme are former college and professional players who have over 80 years of combined playing and coaching experience. For more information about Wolfpack Elite, please contact the Charles Peters, Director at charles@wolfpackhoops.com.
Read More About