The police have reminded people that this year's Bermuda Day race starts in the east, and said "this will significantly impact traffic" and have advised persons who are travelling on the early morning flights that day to be at the airport by 8am.
A police spokesperson said, "Members of the public are reminded that the 2015 Appleby Bermuda Half Marathon Derby organizers have changed the route of this year's road running race to come out of the east end."
"As a result this will significantly impact traffic, especially for those who live in the east end as well as those intending to travel to the east end on Monday, May 25th."
"In particular, we would like to advise persons who are travelling on the early morning flights May 25th to make arrangements to be at the L.F. Wade International Airport by 8am."
"The full details of road closures and other critical information around the Bermuda Day holiday weekend will be provided at an upcoming press conference," the police added.
Map of the route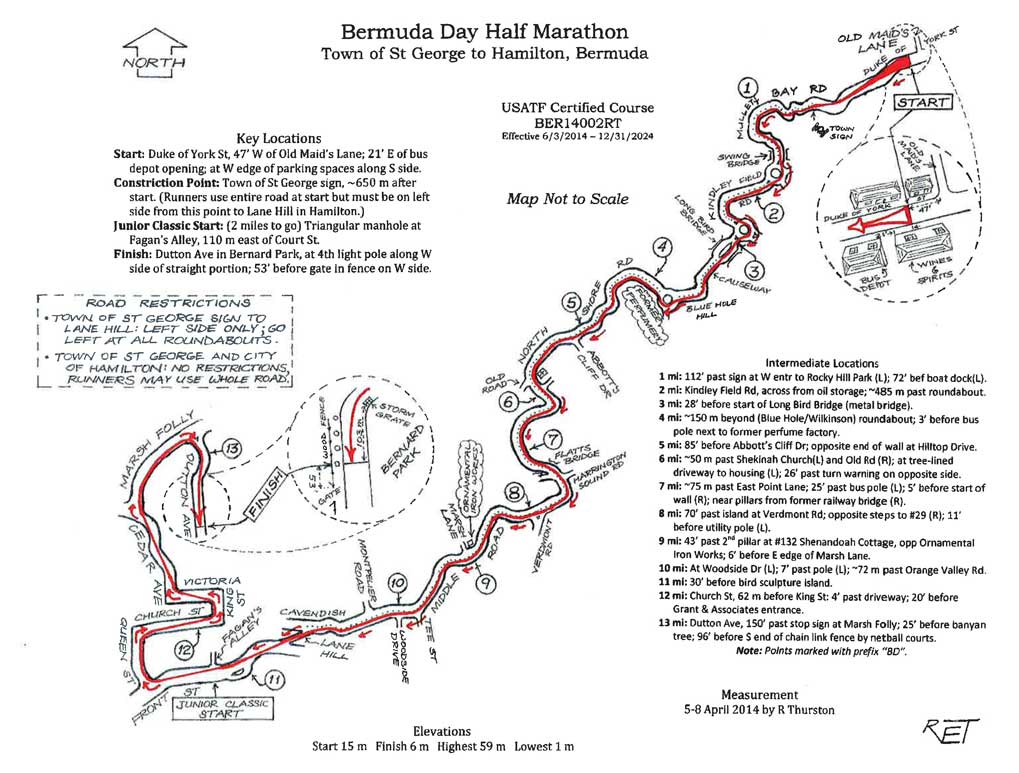 In outlining the full route, the race website said, "The race starts at the junction of Duke of York Street and Old Maid's Lane, St. George's. Runners may use the entire road from the start to the Town of St. George's sign. From this point participants must run on the left side of the road including following the normal traffic flow at all roundabouts until Lane Hill in Hamilton."
"Proceed along Mullet Bay Road, Kindley Field Road, The Causeway, Blue Hole Hill, North Shore Road, Flatts Hill, and Middle Road. Turn left at Lane Hill. Proceed down Lane Hill to East Broadway, and Front Street to Queen Street. Proceed up Queen Street turning right onto Church Street to King Street. Turn left at King Street and proceed to Victoria Street.
"Turn left at Victoria Street and proceed to Cedar Avenue. Turn right at Cedar Avenue and proceed to Marsh Folly Road. Turn right at Marsh Folly Road and proceed to Dutton Avenue. Turn right at Dutton Avenue and follow the directions onto the field at Bernard's Park to the Finish Line."
Read More About