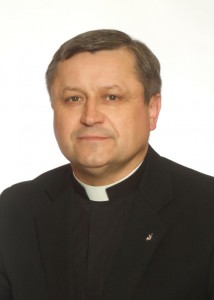 Bermuda will be welcoming a new Roman Catholic Bishop shortly, as the Holy Father, Pope Francis on Saturday [June 13] named Father Wieslaw [Wesley] Spiewak, C.R. of Krakow, Poland the fifth Bishop to serve the country.
Father Wesley, 51 will succeed Bishop Robert J. Kurtz, C.R. who has led Bermuda's Roman Catholic Church for newly twenty years.
In his message to be read at all Masses this week-end, Bishop Kurtz states, "I have known Fr. Wesley since his student days in Rome. He is fluent in English and Italian as well as his native Polish.
"I can assure you that he is a good priest, a good religious and a good man. I firmly believe that Fr. Wesley will also be a good Bishop, dedicated to serving the Catholic Church in Bermuda."
A spokesperson said, "There are over nine thousand Catholics within the parishes across the island.
"The Bishop-Elect is a priest of the Congregation of the Resurrection. For the past six years Fr. Wesley has served as the Provincial Superior of the Polish Province, the largest Province of the Congregation of the Resurrection.
"In that position he has been responsible for 17 religious houses and their varied apostolates in Poland as well as the Resurrectionist houses and apostolates in Australia, Austria, Bulgaria, Germany, Italy, Slovakia and the Ukraine. He has visited Resurrectionist Priests working in Bermuda, as well as in, Canada, United States and the Resurrectionist Mission in Tanzania.
"He was ordained to the Priesthood in 1990, having received a Master of Theology Degree from the Pontifical Academy of Theology in Krakow, Poland and a Bachelor of Theology Degree from the Pontifical Gregorian University in Rome, Italy.
"Pending Bermuda Immigration approval, Fr. Wesley will be ordained Bishop at St. Theresa's Cathedral on 1st October 2015, the Feast of St. Theresa of the Child Jesus, the Patroness of the Cathedral and the Diocese."
Read More About