Nine of Bermuda's Youth Girls National Basketball team members attended Keystone State Camps in Pennsylvania this week, and  five were named to the camp All-Stars.
Charles Peters, Director of the BBYF stated, "These results for the girls' are outstanding. Bermuda has a history of producing top level female athletes in our sport and the focus that we have placed on the girls this past year has resulted in big improvements in the results."
"In the past year, we have seen a tremendous growth in girls basketball with the first ever girls non-scholastic basketball league. We have also had several of these girls take part in various local development programmes."
"In addition to the honour of making the camp all-star teams, two coaches attending the camp have expressed strong interest in recruiting from these Bermuda ladies for athletic scholarships.
"The girls had the privilege of meeting and speaking with one of these college head coaches, who shared information about playing at their institution and what would be required to earn a scholarship."
From left to right: Leilanni Nesbeth, Kyrah McRae, Alea Whorms, Demiqua Daniels, Anna Gilliatt, Kaylee Lema, Inshan-nae Smith, Chanara Rookes, SiYaunne Hall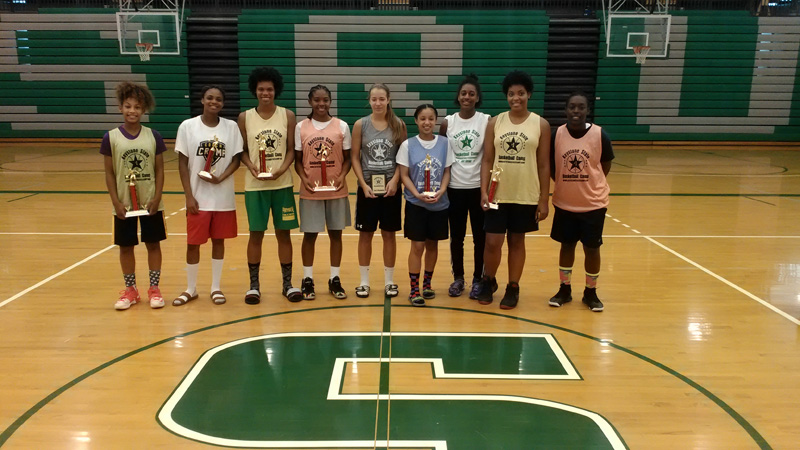 "This is the first real opportunity that has been afforded to our youth national team players so far, but will certainly not be the last. We have a commitment from this coach and others to work directly with us to create mutual opportunities for our boys and girls in the coming years," continued Mr Peters.
"The BBYF will work directly with college coaches to build recruiting opportunities for our players instead of using third party intermediaries. This is the preferred method of recruiting for college coaches and players will be provided with sound education by the BBYF on the basketball specific recruiting process in the coming months."
The 2015 Keystone Camp All Stars:
Scholastic Division All-Stars [11th and 12th Grades]:
Anna Gilliatt, Warwick Academy
Inshan-nae Smith, CedarBridge Academy
Demique Daniels, CedarBridge Academy
Junior Division – All-Stars [9th and 10th Grades]
Kaylee Lema, T.N. Tatem Middle School
Leilanni Nesbeth, Saltus Grammar School
Keystone Camps has over 4,000 campers annually for its basketball camps, shoot-outs, and tournaments and has been host to hundreds of college basketball players and coaches.
The BBYF said they "would like to send thanks to our sponsors for supporting our domestic and international programmes – Qatar Re, Argus, Orbis Investment Management Limited, Bermuda Cablevision, Mailboxes Unlimited, and all other the private donors who wish to remain anonymous.
"If you would like to support youth basketball in Bermuda or you would like to learn more about how your young player can tryout or join the national team please contact the BBYF at info@bbyfbasketball.org."

Read More About