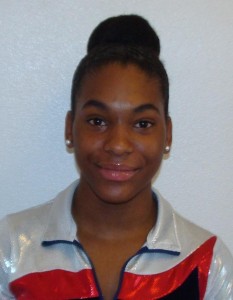 Bermuda's Sydney Mason finished 27th during the artistic gymnastics competition the 2015 Pan American Games in Toronto, Canada.
The 17-year-old — who was competing in world class field — recorded an overall score of 43.250.
She was the first competitor on the uneven bars, recording a score of 9.150, she then competed on the balance beam and was given a score of 10.100.
The third event of the night for Mason was the floor routine in which she scored a 11.20, and then she closed out with a score of 12.800 on the vault.
Following the competition Mason said, "Going first this evening was something I was looking forward to, when you go first you are the first athlete the judges see and you set the tone."
Mason's message to up and coming athletes in the Bermuda Gymnastics programme is to "work as hard as you can, because it definitely pays off."
The Pan American Games are the world's third largest international sporting festival, and Bermuda's athletes are joining some 7,000 others from 41 nations at the Toronto Games. We are being represented in the triathlon, swimming, sailing, gymnastics, equestrian, cycling and athletics.

Read More About