According to a recent poll released by Profiles of Bermuda, 53.4% of voters are in favour of casino gambling; an increase from the 2012 survey which showed 45.6% supported it.
In releasing the poll, the company said: "Support for casino gambling has slowly but steadily increased since 2012 and is now at the point where it is significantly supported by voters [see note below on statistical significance].
"In the 2012 survey, voters were evenly split on their views [45.6% for and 43.3% against.] Support for casinos has now risen to 53.4% while those opposed to it has dropped to 40.5%.
"The main supporters of casino gambling were males, with 67.4% of them favouring it, and 67% of those persons between the ages of 18 and 34. On the other hand, nearly half of persons aged 55 and over [47.7%], as well as nearly half of all women [46.8%], were likely to oppose casino gambling.?
Screenshot of the poll results from Profiles of Bermuda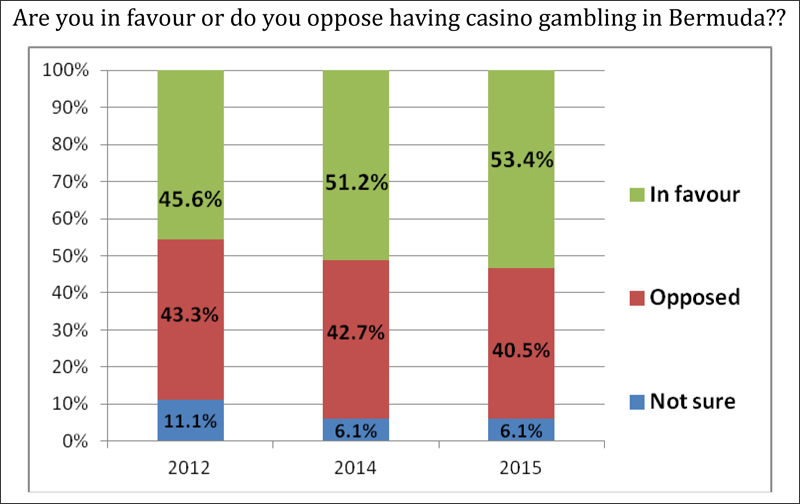 Poll Notes
Profiles said, "Category totals may not add to 100% due to rounding. The 2015 survey was conducted among 407 registered voters between 15 Apr 15 and 10 May 15 and has a margin of error of plus or minus 4.8%. Some 75% of respondents were obtained by landlines, 11% by cell phones and 14% via the internet. Data for all demographics were weighted to reflect the 2010 Census. There were no differences by race and income for this analysis.
Statistical Significance
Profiles said, "To conduct a complete census of the voting public, all 40,000 of them, would be too costly. As a result, statisticians have determined that if a subset of a particular population, in this case voters, were obtained through a random process, the results could come fairly close to those that could have been obtained from the entire population.
"The term 'fairly close' is what is known as the margin of error.  As we did not interview the entire voter population, there will be some error in our results. The margin of error for this survey was calculated, using statistical techniques, at 4.8%. This means that the proportion of the population that support gambling [53.4%] could in fact range from 48.6% [53.4% - 4.8%] to 58.2% [53.4% + 4.8%], had we surveyed all voters.
"Likewise, and using similar calculations, those opposed to gambling could have been as low as 35.7% or as high as 45.3%. Since the lowest point for those that support gambling [48.6%], is greater than the high point for those who oppose it [45.3%] statisticians say that the result is statistically significant.
"Statisticians would also say, in this case, that had all 40,000 voters participated in the survey, they would be confident that more would support gambling than would oppose it."
Read More About