Three of Bermuda's Island Games athletes took time out of their schedule today [July 1] to visit the St Peter's Primary School in Jersey to talk about their sports careers.
They included cyclist and flag bearer Dominique Mayho, bronze medallist in the cycle road race Gabriella Arnold, and two-time medalist Chris Estwanik.
From left: Dominique Mayho, Gabriella Arnold and Chris Estwanik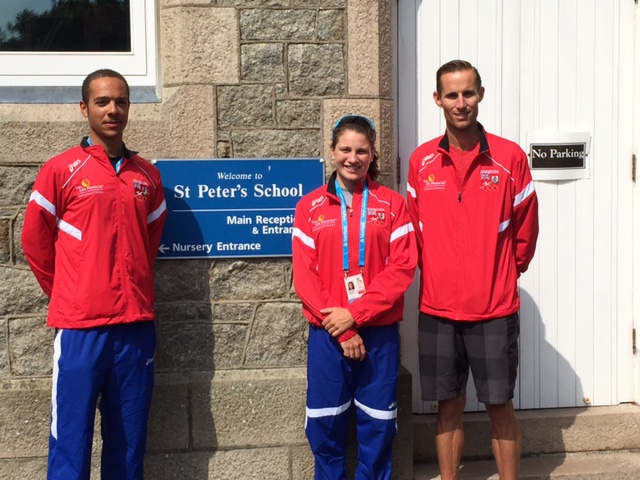 The 2015 Island Games has nearly 3,000 athletes from 24 islands competing, and Bermuda is being represented in badminton, basketball, track & field, golf, shooting, volleyball, windsurfing, sailing, tennis, archery, triathlon and cycling.
As of this writing, Bermuda has won six Island Games medals and is 13th on the medal table.
Gabriella Arnold won bronze in the cycling road race, she and Karen Bordage combined to win silver in the team competition, Chris Estwanik won gold in the half marathon and the silver in the 5000m, while Taahira Butterfield won gold in the 100m and Natasha Trott won silver in the 100m.

Read More About