August marks the fourth annual Junior Fishing Tournament run by the Bermuda Anglers Club [BAC], free to enter and set to take place on August 23 on a rain or shine basis, with children to begin fishing at 8.30am.
This event is open to all boys and girls 16-years-old and under. Fishing can be done from a boat, or from shore, with categories for children of all ages.
Tournament Director Kip Froud said, "Over the past three years, we have seen over 450 kids have great fun in this family oriented event. The BAC has been delighted with the response to the tournament in previous years and has high hopes for the 2015 event, especially with the new school prize sponsored by Logic up for grabs.
"We wanted to hold an event where kids all across Bermuda could participate and enjoy time with their friends and family members. In the past three years it has been especially rewarding to see kids participating and having fun irrespective of the circumstances facing their families in these challenging economic times.
"And we want 2015 to be an even bigger success."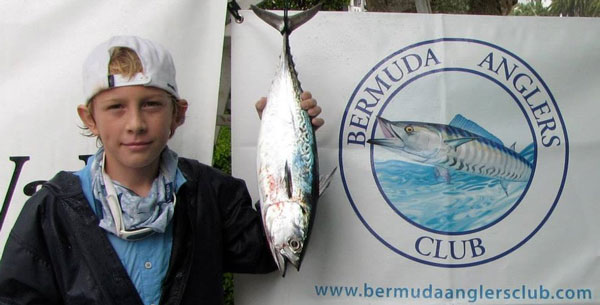 A spokesperson said, "Fishing is a great way for families to spend time together and we encourage everyone on the Island to get behind this important event.
"Each child that comes to the weigh-in station will receive a cool free t-shirt. New for 2015, the school that has the most kids attend the weigh-in will win the Logic sponsored $500 prize for their school's physical education program. So kids remember to include your school on your tournament entry form.
"The weigh-in will be held west of the Flagpole on Front Street between 3pm and 5pm on the afternoon of Sunday 23rd August.
"Children can weigh-in the biggest fish they land other than a billfish (marlin, spearfish or sailfish), a shark and a parrotfish. Part of the goal of the tournament is help children understand and respect Bermuda's Fisheries Regulations.
"Prize giving will be held at the Royal Hamilton Amateur Dinghy Club on Saturday 29th August at 10am. 25 prizes are up for grabs!!
"Free entry to the Junior Fishing Tournament is made possible by the success and funding of the BAC's International Light Tackle Tournament, which celebrates its 50th anniversary in June 2016.
"The Junior Fishing Tournament also owes its success to the generosity of our local sponsors. In addition to Logic, Butterfield & Vallis and C-Mart Ltd have confirmed they will again be supporting the Junior Tournament. Additional sponsors will be announced shortly."
Entry forms are available online [PDF here].
Read More About
Category: All