Saying that it is in "accordance with Government's commitment to effecting ongoing improvements in its reporting on the fiscal affairs of the country," the Ministry of Finance today [Aug 19] reported on the 2015/16 First Quarter Fiscal Performance.
"The headline numbers for the 2015/16 National Budget are: a revenue target of $931 million; current expenditure of $1.08 billion, including debt service; capital expenditure of $68.7 million; and a projected deficit of $220 million," the Ministry said.
"Revenues for the first quarter ending June 2015 are $223.2 million; this is $8.4 million [3.9%] higher than in June 2014.
"The primary reason for this increase is due to an increase in Payroll Taxes collections of approximately $2.7 million above 2014 collections, higher collections in Customs Duty of $4.4 million above 2014 collections and higher Stamp Duty collections of $2.3 million above 2014 collections, offset by lower collections in all Other Receipts.
"When compared to Budget estimates, total revenues are tracking slightly higher.
"Current expenditures, excluding debt service, for the first three months ending June 2015 are $231.9 million; this is $2.9 million [1.3%] higher than was spent during the same period last fiscal year.
"Government current account spending to date is higher during this fiscal year when compared to the same period last year mainly due to the furlough initiative not being extended, partially offsetting all other budget reduction measures taken in the 2015/16 Budget.
"Capital expenditures for the period ending June 2015 are in line with capital expenditure for the period ending June 2014 coming in at $9.25 million.
"Debt service costs for the first three months ending June 2014 are $42.4 million. This represents $29.4 million in interest payments and a $13 million contribution to the Government Borrowing Sinking Fund, representing approximately one quarter of the $52.3 million annual contribution.
"Debt service to date is $2.1 million more than last year's period. This is due to higher debt levels.
"In general, current expenditures are presently tracking on par with budget estimates. It should be noted that in certain instances expenditures are not made evenly over the year which may distort actual figures when compared to budget.
"Total Government spending for the first quarter of fiscal 2015/16 was $5 million [1.8%] higher than the corresponding period in 2014/15.
"For the first three months of 2015/16 Government incurred a deficit of $60.4 million. This deficit was financed by drawing funds from the Sinking Fund.
"In 2013, Government borrowed $800 million and the net proceeds of these funds were used to repay all of Government's outstanding short-term indebtedness with local banks and fund the 2013/14 year's budget deficit. The balance of these funds was deposited into the Sinking Fund to cover the 2014/15 budget deficit and part of the 2015/16 budget deficit.
"In the first quarter of fiscal year 2015/16 Government gross debt, excluding guarantees, stood at $2.185 billion."
2015/16 Budget Performance For Month Ending 30th June 2015  [PDF here]: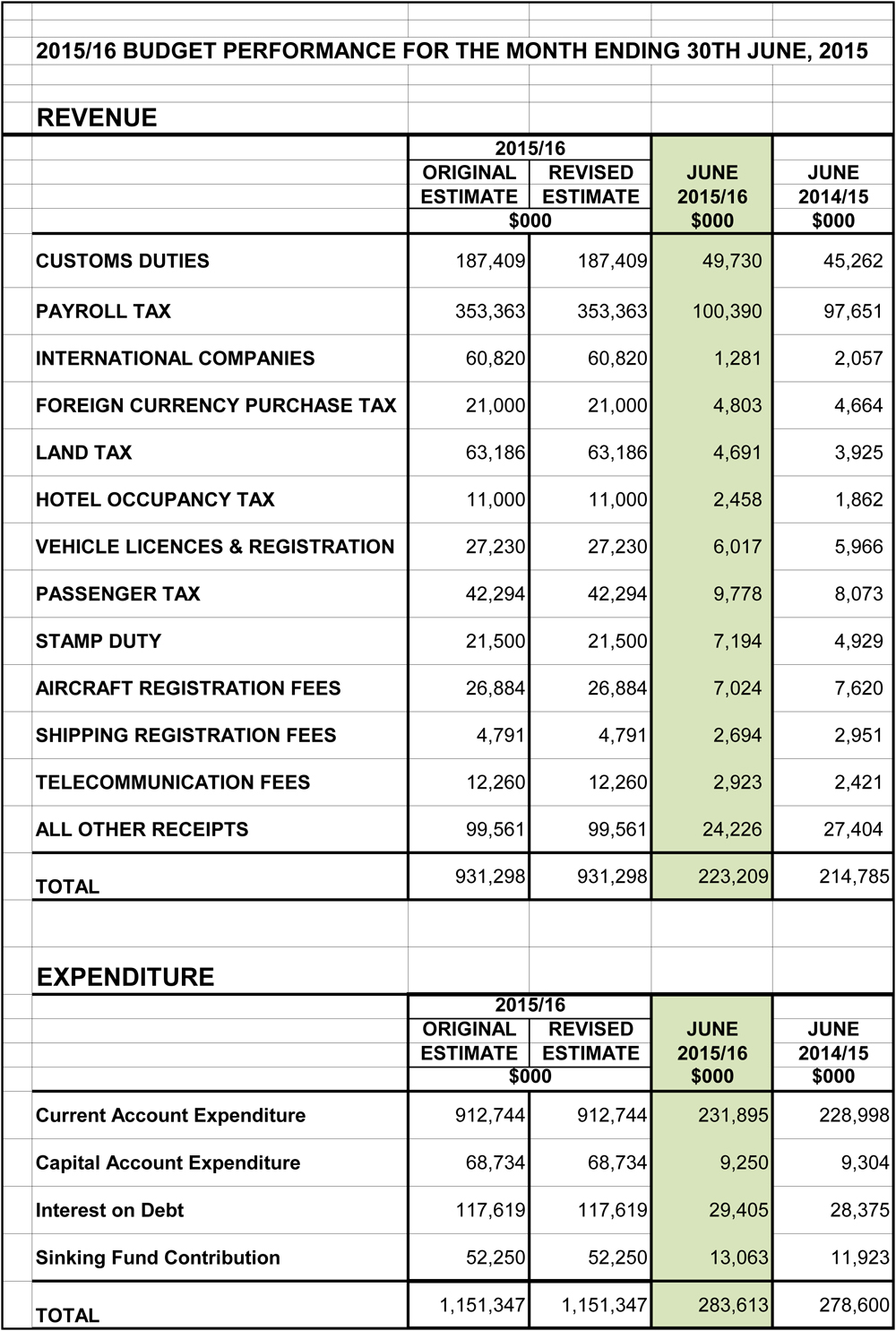 Current Account Expenditure #1 [PDF here]: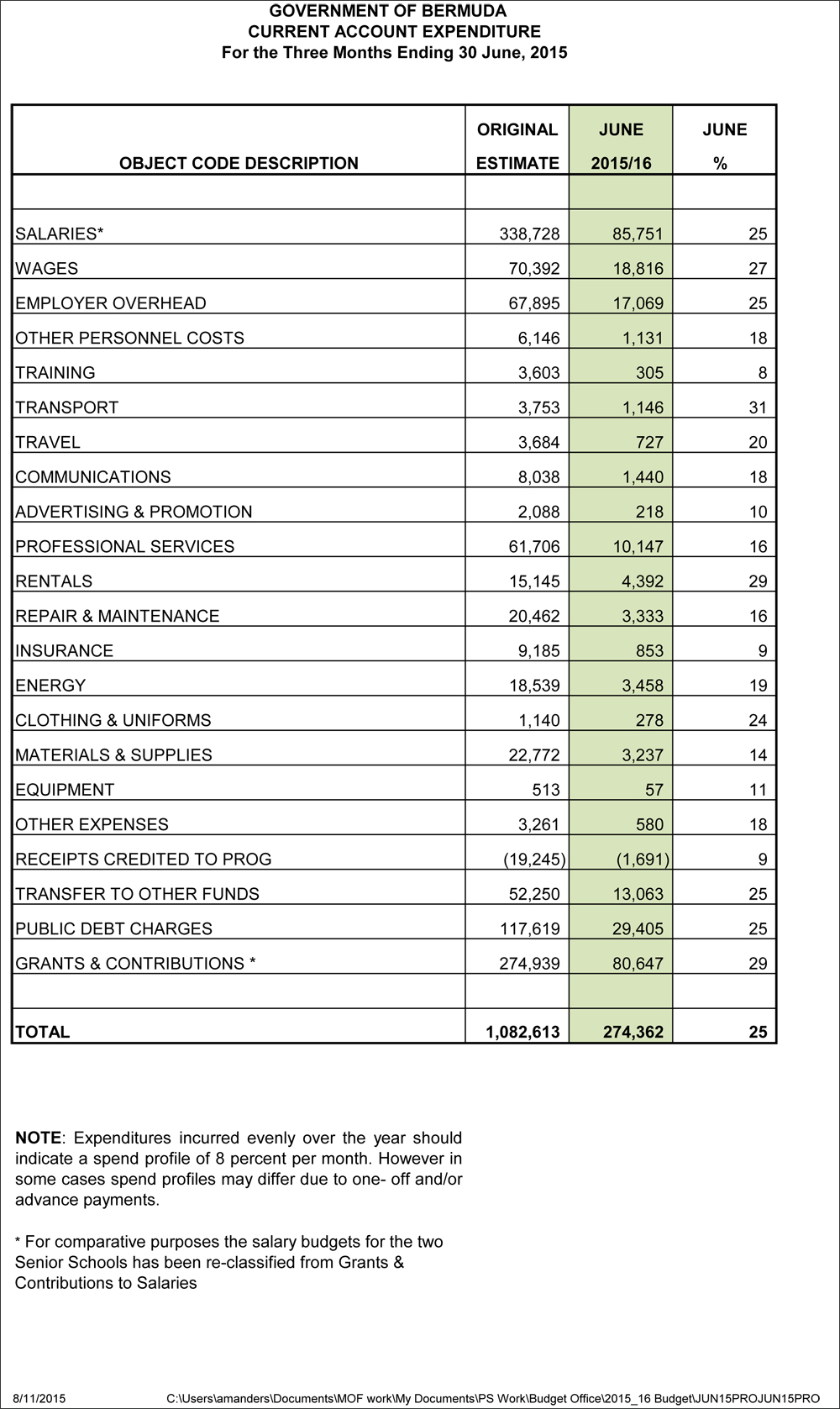 Current Account Expenditure #2 [PDF here]: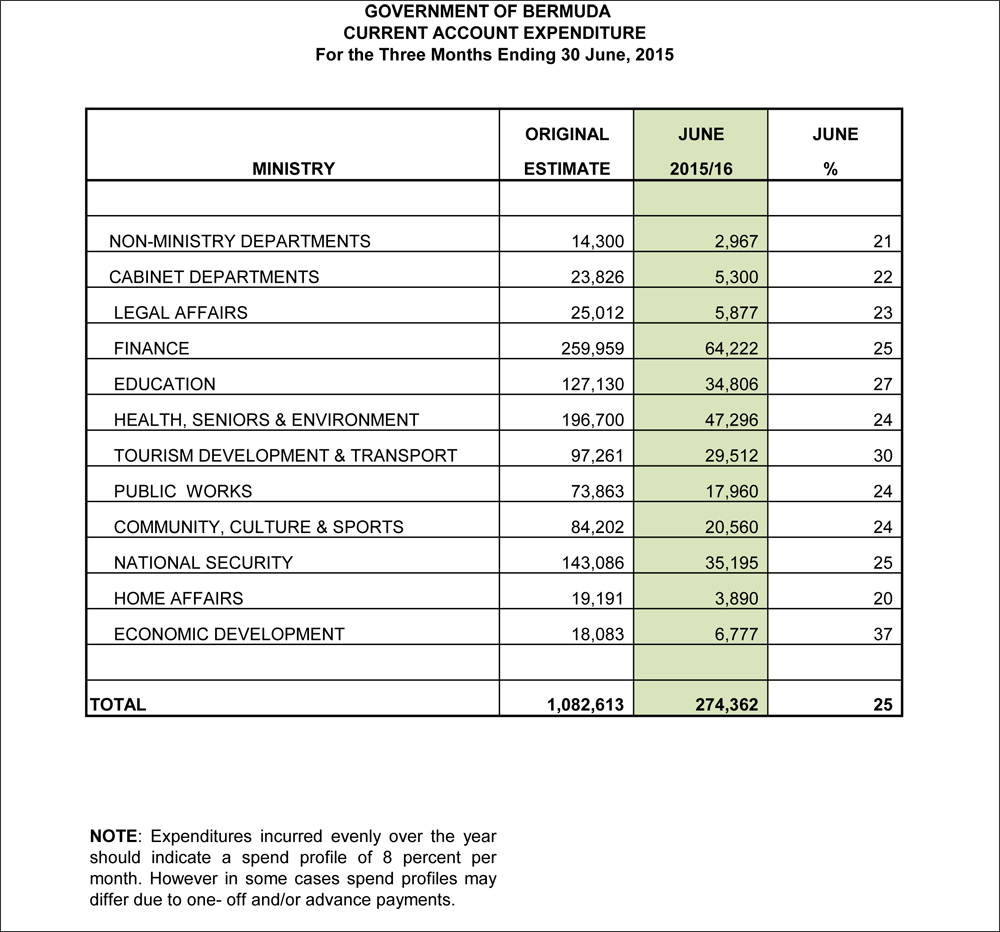 Read More About