[Written by Don Burgess]
It just might be the best $20,000 the Department of Tourism ever spent — a gift that keeps on giving.
Every week John Layfield is on FOX TV three or four times with Gibbs Hill Lighthouse in the background and the sun shining behind him off our crystal clear turquoise waters.
Mr. Layfield, a former WWE champ, serves an analyst and commentator for a variety of FOX shows, including the Bulls & Bears, Cavuto: Coast to Coast and Varney & Co.
He appears on those programmes by putting on a shirt and tie, then heads downstairs to his TV studio in his basement. He's his own one-man crew by flicking on the camera and lights and he is ready to roll.
But it wasn't always this way. For Saturday's 11am Bulls & Bears, Mr. Layfield said it was a pain to have to fly to New York to film every week.
He thought there had to be a better way and with the help of then director of the Department of Tourism, Billy Griffith, had a TV studio installed in the basement of his home.
Mr Layfield and the Gibbs Hill Lighthouse backdrop: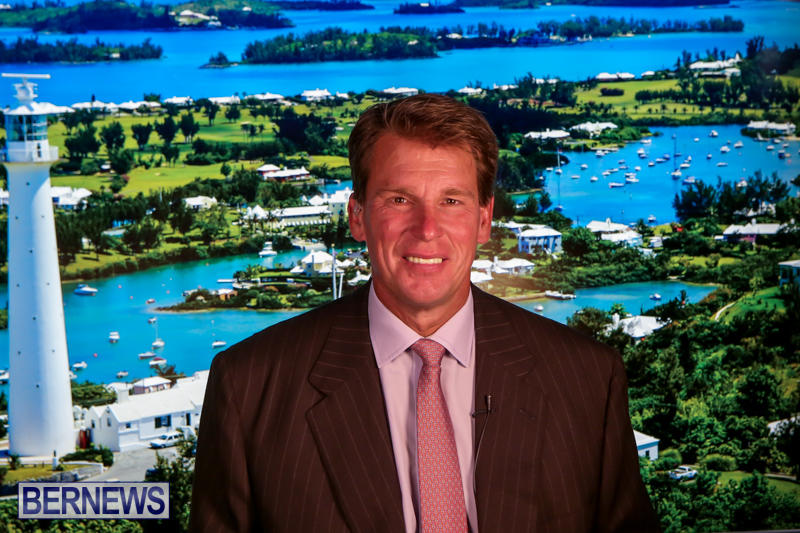 "FOX told me it can't be done," Mr. Layfield said. "I told them 'It can be done. It may cost too much, but it can be done.'
"I asked them 'Tell me what it costs and let's work backwards from there.'"
He ended up getting a dedicated 10.6Mb line from BTC and Digicel to upload and an LT encoder, which will allow him to connect not only with FOX, but BBC, Bloomberg or anyone else.
The Department of Tourism helped out by giving $20,000 to get the studio set up, but as part of the deal gave Mr. Layfield several colourful Bermuda backdrops for him to use when broadcasting.
Besides the Gibb's Hill Lighthouse, he also has a Front Street and a night time one to use.
He said it was money well spent by the Tourism Department.
"Our show has the highest rating of any news show on the weekend — FOX, CNN, MSNBC or Bloomberg. We do about 1.2 million total views. The golf tournament [The PGA Grand Slam] they spent $2 million and got about 200,000 viewers. The first day's numbers were about 186,000 and the second about 206,000."
"And they spent about 20 grand on this years ago when the PLP was in power on a business show that has 1.2 million viewers every single week."
Mr Layfield in his home studio, with the Bermuda backdrop: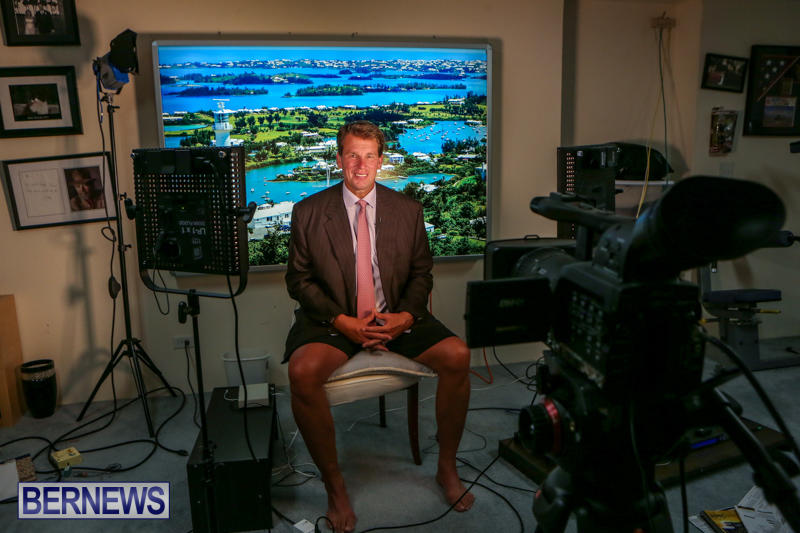 He has a very busy TV week. He normally flies out of Bermuda to do a WWE show on Sundays, then arrives back home on Tuesdays. He also does something for FOX TV on Wednesdays, Thursdays and Fridays.
For Bulls & Bears, FOX will send him the topics the day before and he'll have to let them know what his opinion on them are ahead of time.
"I don't know what anyone else will say but they make sure everyone doesn't agree or disagree — That's terrible television as it's either a love fest or everyone smashes the topic.
"The host, Brenda Buttner—who is a Rhodes scholar—, if I say something and someone disagrees with me, she'll have the option of going to that person directly next to get a dissenting point of view, which is better television."
Mr Layfield arrives in his studio 15 minutes prior to the time the show starts to be ready to go when the camera light comes on.
While he looks stylish with a suit jacket and tie on screen, out of the camera's eye he's normally wearing shorts.
Mr Layfield on Fox News discussing Donald Trump and the US election, video courtesy of Fox:
He's also a quick on-call guest if they need one.
"If they need me on air, they can call me and I can be on air in minutes," he said. "I put on a shirt and a little makeup and all I have to do is go downstairs."
And Bermuda gets another plug from the $20,000 spent.
"In TV land, Bermuda always looks bright and sunny, even if it's miserable and raining outside," he said.

Read More About
Category: All, News, technology