A Canadian woman enjoying a vacation in Bermuda last month found herself in need of aid while swimming at a private beach, paving the way for a stranger with close Canadian ties of his own to come to her rescue.
A CBC story says, "Marge Rabouin, from St. Andrews West southeast of Ottawa, travelled to Bermuda in late July with her grandson. They visited a private beach to go snorkelling.
"My grandson never listens, so he got farther and farther. And we got caught in a bit of an undertow, and by the time I came back up, I noticed my grandson was too far," she told CBC News on Monday.
"Rabouin said she pushed her grandson to safety and re-fractured ribs she'd hurt months ago.
"I wasn't able to swim back, because when I re-fractured my ribs, I lost the ability to swim strongly," she said.
Marge Rabouin and AJ Darby [photo courtesy CBC]: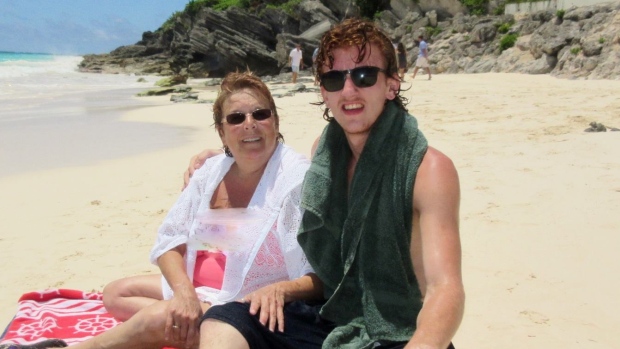 "Weak and caught in a rip current, Rabouin said she started to yell for help — but nobody came. Twice the undertow dragged Rabouin into deeper water. On the third pull, she thought she was going to die, she said.
"Suddenly, out of nowhere, I just see this redhead grabbing me."
"Rabouin said she was in shock. She remembers someone else helping the man as he lifted her to shore. But as quickly as the stranger entered her life, he left it.
"That man turned out to be AJ Darby, 18, who had moved to Bermuda only one week before the incident. The two briefly found each other later that day, posed for a photo, and discovered something else in common — a strong connection to Nova Scotia; Darby had just moved from Truro, and Rabouin lived in Nova Scotia for more than 20 years.
"Rabouin said she's forever grateful for what he did."
"I think everyone will tell you that you look at things a little differently. I'm just happy to wake up every day," she said.
Read More About