The Bermuda Parents Teachers Students Association [BPTSA] said they are "gravely concerned about the bus cancellations", and urged the government to "develop sound protocols, in collaboration with the schools, to ensure that our children are safely managed during these unexpected events."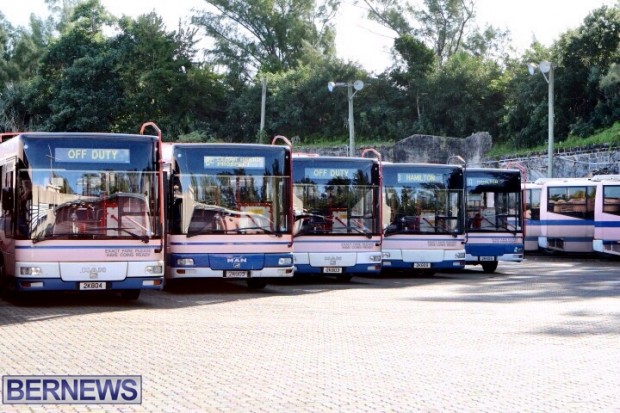 Bus Cancellations
The BPTSA statement comes after the past few days have seen multiple bus service routes cancelled, including those along school routes.
Yesterday the Department of Public Transportation said that as a "result of a huge spike in vehicles coming out of service for various reasons including accidents, tire changes and small electrical repairs the Department of Public Transportation is currently experiencing some delays and cancellations of bus runs.
"Currently, DPT technicians are carrying out targeted repairs that will have the greatest impact on returning vehicles to service and a manufacturer technician will be arriving to assist with specialized repairs," the DPT added.
Shadow Transport Minister Lawrence Scott also commented on the matter yesterday, saying: "Each day, we hear of these bus cancellations which wreak havoc for students, workers, and seniors alike. There are even reports of buses breaking down while in transit, and of buses not showing up to collect students from school.
"Today's listing of cancelled buses affects students from Warwick Academy, Purvis Primary, and T.N. Tatem and numerous buses from Cedarbridge Academy. How are parents supposed to ensure their children get to their respective destinations?
"It is unacceptable that the general public should be held hostage by these issues. The Minister of Transport must speak to these issues and reassure the public that their transportation plans will not be compromised in this manner," added Mr Scott.
BPTSA Statement
Responding to the cancellations, BPTSA Chair Harry Matthie said, "The BPTSA is gravely concerned about the bus cancellations. As a parent of a child that occasional catches the bus by herself, I worry at the best of times and cancellations and breakdowns add to the normal stresses of the day.
"We hope, urge and implore upon the persons of authority to develop a better early warning system, a better notification system – in the case of breakdowns on route and cancellations.
"We encourage them to develop sound protocols, in collaboration with the schools, to ensure that our children are safely managed during these unexpected events.
"In the near term, the mechanical problems can get fixed and the staffing issues sorted out but that does not negate the need for a robust method of operation that will account for abnormal situations.
"We trust that those who are actually performing the work have all the necessary resources to accomplish their task and ask that those who are in charge of policy making to suspend or lift any 'rules' that will prevent the return of our buses safely and quickly to the streets."
Read More About