As part of their 145th anniversary celebration, St. Paul AME Church recently hosted a panel discussion titled "Church and State – Politics, Preachers & Politicians," with the panelists for the forum including Rev. Nicholas Tweed, Bishop Nick Dill, PLP MP Wayne Furbert, OBA MP Leah Scott, and BIU President Chris Furbert.
At the forum, Bishop Nick Dill said, "I go to church every Sunday, and I know that within my congregation there are going to be people in my congregation of various different views. We have in the Cathedral those who avidly support the OBA, those who avidly support the PLP; how am I going to minister to such people without causing offense so that they'll shut off to hearing good news of the gospel?
"Well, I speak about principles that can be applied equally to both, to wherever you happen to be, and we should focus on those principles and that we're living them. Because before we are political, we are also brothers and sisters in Christ and we have to learn to love one another, respect each other, to listen to each other, and to work together.
"And that's one of the things that, in my mind, will enable us to have good politics, if we can do this well together."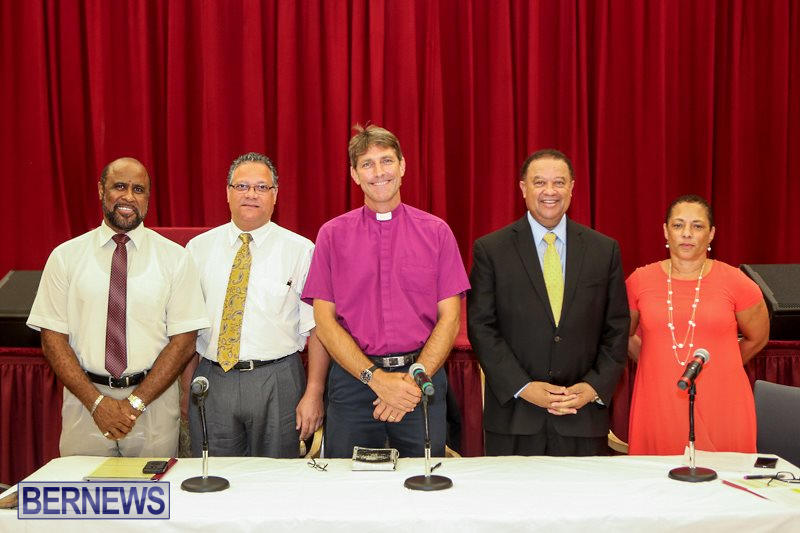 OBA MP Leah Scott said, "Dr. King said, 'I don't think the Republican party is a party full of the Almighty God, nor is the Democratic party; they both have weaknesses and I am not inextricably bound to any party.'
"So, as Bishop Dill said, one of my goals as a person is to do the best that I can to follow the principles of Christ. I'm not always successful, but the good thing about God is that when you fall down, he picks you back up the he takes you right where you are, and I hope that we learn as a country to join together regardless of what our differences are, whether they be race, creed, colour, political affiliation, or persuasion.
"Because I think our ultimate goal is to see Bermuda the best that it can be and it can only be the best when we learn to love each other and treat each other the best that we can."
BIU President Chris Furbert said, "I honestly think that when we look at this whole question of – and I heard what Bishop Dill said and what Ms. Scott just said – and I think the challenge is and will always be is that when you look at the church, the church has members, and those members are voters.
"Those members are also either union members or they're non-union members, and as a result of that – and Ms. Scott is absolutely right – there are issues that's going to come up.
"And while I agree with the Bishop that there are principles that the church is founded on, when your member has issues that need to be addressed, the church should be speaking out on those issues and not be silent."
Two hour video of the "Church & State" public forum
PLP MP Wayne Furbert said, "I also believe that the church and its members have an impact because it's what Parliament has impacted on you, and so you have the right to speak up on issues that come on a daily basis, or whatever the basis, whenever that may come.
"The only country in the world speaks about separation of about church and state is the United States. You don't hear too many other countries speaking about it."
Rev Nicholas Tweed said, "Hunger is an example of injustice. Therefore the church is compelled to challenge not just – see, nobody ever criticizes a church for giving someone a plate of food, because they don't mind the church being a charity, but they do get offended when the church starts raising questions as to how people are hungry.
"And hunger is a consequence of government policies and if government policies are contrary to Biblical principles, then the church has an obligation to speak to those issues."

Read More About