[Written by Don Burgess]
So you want to watch that funny YouTube cat clip or the latest Bernews video on your TV rather than on your computer, but you don't know how?
The solution is easier than you think. And you're not alone in wanting to watch videos on your TV.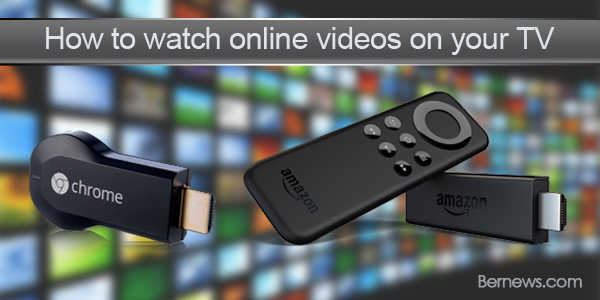 Red Laser's Alvaro Arruda says "We get people asking about that every day and easily 20 times a week. We always keep in stock ways of people getting from their laptop to their TV."
He said the simplest solution is hooking up an HDMI [high-definition multimedia Interface] cable from the computer to the TV.
"But not every TV has an HDMI port or most laptops don't have HDMI ports — especially the older ones — we recommend to people to use an external video card, which will output from your laptop to a small little device via USB. This works well for people who have older laptops or TVs."
He said a six-foot HDMI cable costs $14 and people can expect to pay more for every foot longer the cable is. External video cards run from $94 to $114.
He mentioned that devices such as Amazon's Fire Stick [$79] and Google's Chromecast [$63] also are options, but with the added benefit of being able to watch a wide selection of TV shows and movies.
Mr. Arruda said with the Fire Stick, a person will need an Amazon Prime account [$99 per year], which many residents already have because they use it to ship items to Bermuda.
"You'll be able to get all their TV shows and whatever else they offer on it, but usually you will need a VPN [virtual private network]."
A VPN will trick your computer into thinking you are in the US so you can get American content, otherwise you will get TV programmes from Latin and South America, which is often in Spanish and doesn't have as much choice as the US.
"You might be able to get Jurassic World but it will have Spanish voiceovers," he said.
VPNs generally cost less than $7 a month and some of the more popular ones include CactusVPN, Mullvad, NordVPN and KEPARD, but there are many more.
"You can also get a British IP address if you want programmes from the UK," Mr. Arruda said.
Chromecast works similar to the Fire Stick but you won't need an Amazon Prime account.
He said, "Chromecast will allow you to turn your monitor into a computer and it gives you access to Hulu, Netflix, Pandora, HBO Go and ESPN."
There is a long list of content for Chromecast besides those channels, including BBCiPlayer.
Most American TV shows are available from Hulu, but you have to subscribe to that at $7.99 a month.
Apple TV is another way to get content from your computer to your TV, but he warned you are tied to Apple then.
"You would have to purchase Apple iTunes cards as credit and then choose the movies or TV shows that way to stream it."

Read More About
Category: All, Entertainment, News, technology