The first episode of the Bernews Podcast, which aims to bring you an in-depth look at current affairs, is now available for your listening pleasure, with the inaugural episode featuring an interview with recording star Maxi Priest, who is currently on the island to perform at the America's Cup Jam on October 17th.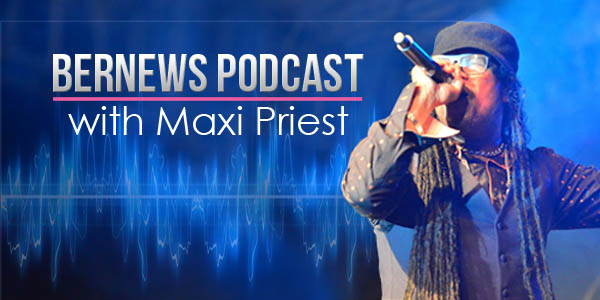 Speaking with host Jeremy Deacon, the artist touches on a variety of subjects, including his music career, his time in Bermuda, his love of football, and much more.
During the interview, the world-renowned musician looks back on his many trips to Bermuda, which he says began in the 1980s, recounting visits that included "friends and what I consider family," and saying "I've developed some relationships over the years that have been fantastic."
Recalling when he first started traveling to Bermuda, the singer said one of the things that stuck out to him was "that every picture that you took was like a postcard. It was just so clean and perfect."
Maxi Priest has been seen around the island on a moped, and speaking about that he said, "That's a wonderful experience that I miss as well. You just get a nice little freedom from just riding on this moped."
Speaking about what people attending the America's Cup Jam can expect, the artist said, "We're going to have a good time. Honestly, I'm raring to go; it's been a minute since we've been able to come here and actually play for the masses.
"A lot of my friends are going to be here, a lot of my folks are going to be here, and we can't wait to have a ball. It's going to be energetic, exciting, and we'll take them on a bit of a roller coaster. I hope to see all of you out there on Saturday to have a party."
To download this episode of the Bernews Podcast in MP3 format, click here.

Read More About
Category: All, Entertainment, Music, News, Podcasts