Last weekend Bermuda's shipping community were put to the test when delivering vital infrastructure for the Louis Vuitton America's Cup World Series.
Hurricane Joaquin forced the MV Oleander, loaded up with 43 forty-foot containers for next week's event, to delay her departure from New York.
The cargo she was delivering included AC45F catamarans and other racing equipment for the Teams and a helicopter and mobile TV Studio for ACTV – the production company that will be broadcasting the event to over 100 territories around the world. These items for America's Cup were in addition to the Bermuda Container Line's normal shipment.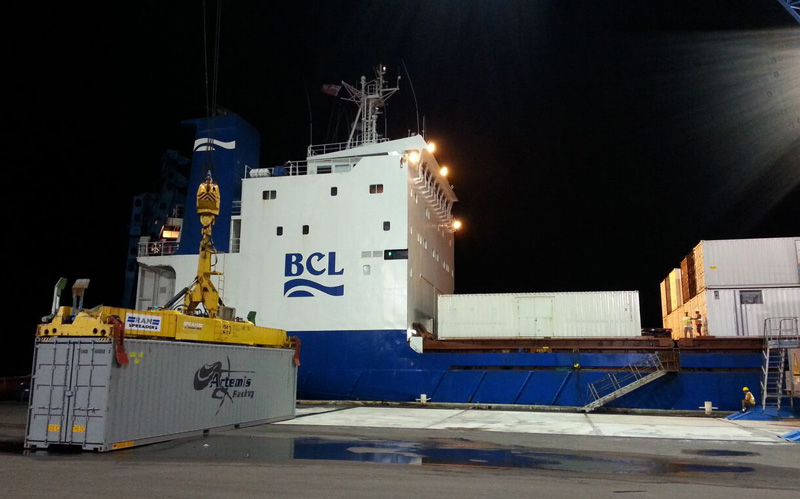 After weathering stormy seas for two days, the ship and crew arrived safely alongside the Hamilton docks on Monday night at 7:30 pm.
From there a team from Stevedoring Services Ltd. set to work offloading more that 200 total containers, working until midnight that and returning at 8:00 am to finish the offload.
This is not the first time that Stevedoring Services and the crew of the MV Oleander have adjusted their schedule to assist with the America's Cup.
In April of this year the container ship made a historic offload in Dockyard with the infrastructure of the Oracle Team USA base.
All the items on this week's shipment, managed by Bermuda Forwarders Ltd., needed pre-clearance from the docks, a process that required coordination with, and assistance from, the staff of HM Customs.
As Bermuda enters the final stages of preparations for the Louis Vuitton America's Cup World Series the public will notice some of this infrastructure being put in place as the Event Village starts to take shape.
"By all accounts the shipment and offload went really smoothly," says Mike Winfield, CEO of the ACBDA.
"I think it's a great example of how Bermuda comes together when the chips are down and delivers. We would like to sincerely thank all those involved for their extraordinary efforts."
The Louis Vuitton America's Cup World Series Bermuda event will take place from October 16-18.

Read More About