Women in Reinsurance [WiRe] – a Bermuda association for women working in the reinsurance industry — are launching a chocolate fundraising campaign with plans to donate all proceeds to the Family Centre at its 2015 telethon on November 18th.
"From its inception, a major goal of our organization, WiRe, has been to support our community through charitable work," said Rachael Ashford, VP Specialty Reinsurance at Allied World Assurance Company, Ltd. and coordinator of WiRe's chocolate campaign.
"Our members were very enthusiastic about this campaign and have volunteered to sell more than 6,400 boxes of chocolate covered almonds within the next month to help FC fund its very worthwhile programmes for children and their families."
WiRe members Sarah Cooper, Zoe Kempe, Rachael Ashford, Angelika Davis and Fiona Brydon get ready to sell chocolate covered almonds to help raise funds for Family Centre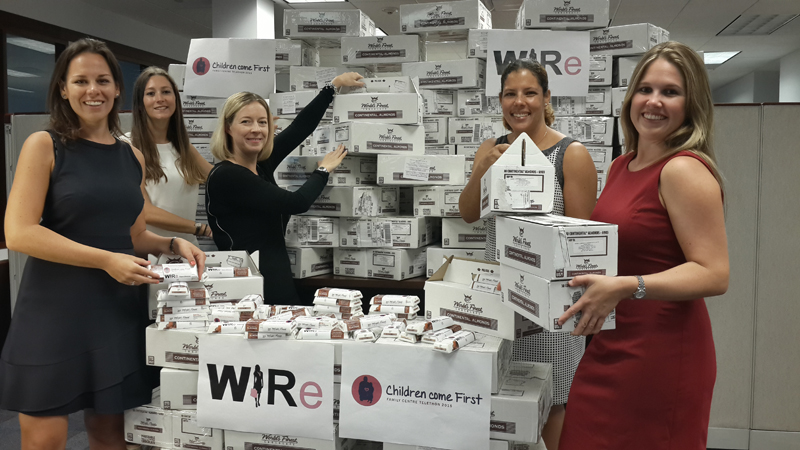 Family Centre works to improve the lives of Bermuda's children by providing specialized programmes and prevention initiatives to those who are suffering from family based problems such as abuse, neglect, and other emotional challenges.
Martha Dismont, Family Centre Executive Director commented, "Our Children Come First Telethon hopes to raise significant funds for Family Centre while educating the broader community about our services and celebrating our 25 year history, as well as the success of our children and families. We are so grateful to WiRe for spearheading this great and creative initiative."
For more information about Family Centre, please visit www.tfc.bm. To purchase boxes of chocolate covered almonds, please contact Rachael Ashford at wire@wirebermuda.com or 278-5493.
Read More About