Members of the Bermuda Sanshou Association [BSA] are attending the 13th World Wushu Championships in Jakarta, Indonesia, with the team including athletes Sentwali Woolridge, Reyel Bowen, and Krista Dyer; along with coaches, managers, and supporters.
Krista Dyer went down two rounds to one when she faced Hergie Bacyadan of the Philippines earlier today [Nov 15]. BSA president and coach Garon Wilkinson said, "Dyer executed her game plan well and closed the distance on Bacyadan and won the first round by forcing her opponent off of the lei tai twice.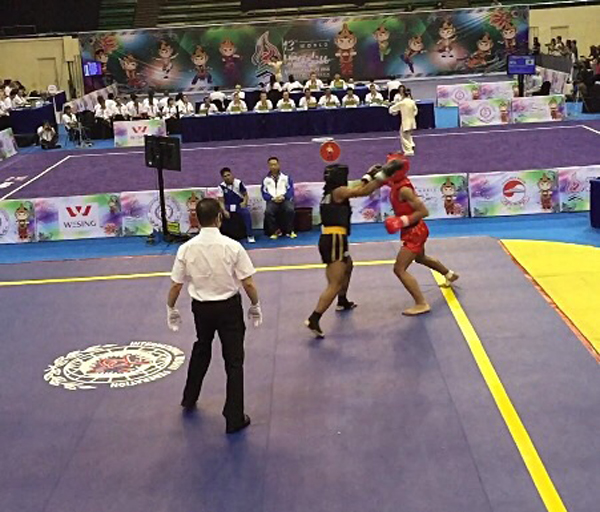 "In the second round Dyer pushed her opponent off of the lei tai again and was awarded two points. She pushed her off a the second time and thought she won the round and the fight when the push off was not awarded. Dyer lost on points in the 3rd round and as a result lost the bout 2-1.
"After reviewing the footage, the Bermuda coaches decided to protest the decision on the second push off. However the competition rules state that the decision will not be overturned and that the judge will only be reprimanded.
Krista Dyer's fight in Indonesia
"As a result a formal appeal was not submitted but the Technical Committee was made aware of the dismay of the controversial call that could have caused Dyer the match." Mr. Wilkinson later added that after further review of the footage, he supported the judge's original decision.

Read More About