The community is invited to join Gina Spence Productions, in partnership with Bermuda Economic Development Corporation EEZ, for their Pre-Christmas Party to be held on Friday, December 4th from 6:00pm till 9:00pm at Dr. E.F. Gordon Square-Places Place Parking lot.
"Come and enjoy all of the live local entertainment that includes: FPG, Big Snipes, Anointed Steps Dance Ministry School, Septimus, Josian Maybury, Larrita Adderley, Gombeys and many others," a spokesperson said.
"There will be free face painting and fun castles for the children and free soup for the seniors! There will also be free giveaways: Christmas trees, turkeys & hams. Sponsored by Sousa's Landscaping and The Market Place.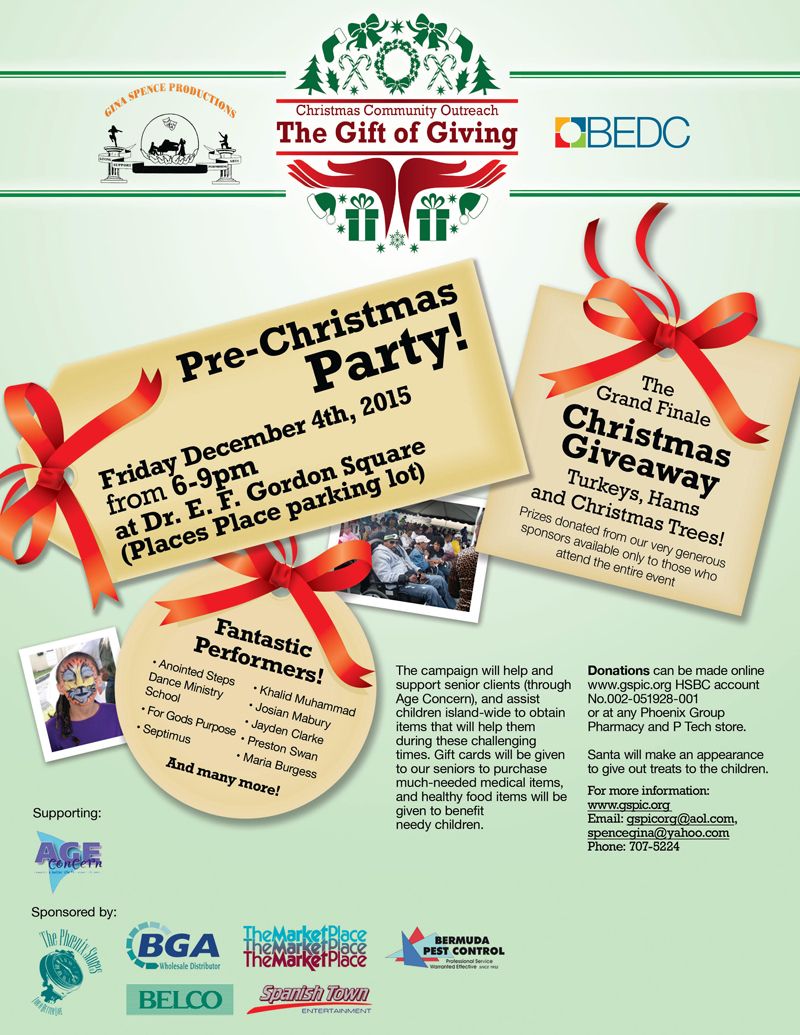 "The Pre-Christmas party is a culmination of GSP's annual Christmas Community Outreach campaign that will help and support children and seniors to obtain items that will help them during these challenging times, notably healthy food items for children and Phoenix gift cards for seniors to purchase much-needed medication.
"Last year there were 100 senior nominations [through Age Concern, and the GSP website] and 100 children island-wide. More specifically, GSP has developed a database of children they supported with school uniforms and healthy food items in the past year. Some are as young as 3 years old left behind from gun violence.
"The senior medical health card program and healthy food items for children [left behind by the gun violence] are exclusively GSP programs. They work in partnership with other charities, nutritionists, counselors and case workers to develop programs to match specific needs for children and seniors.
"This year the goal is to raise $20,000 to assist every child and senior that requires assistance. You can sponsor a child or senior by making donations directly to Gina Spence Productions online through HSBC Bank Account No. 002-051928-001; or at any check-out register at the Phoenix Stores, P-Tech and Brown & Co; and also at the Pre-Christmas Party.
"Phoenix and BGA are the lead sponsors. Other sponsors and supporters include: Bermuda Pest Control, The Market Place, Spanish Town, BELCO, and Family and Friends of GSP. For more information, visit the website at www.gspic.org, or contact Gina at 707-5224 or spencegina@yahoo.com or gspicorg@aol.com."

Read More About
Category: All, Entertainment