The Bermuda Irish Association have raised $10,833 in the past 12 months for local charities, which includes generous donations from their lead supporter BTC, along with other companies such as Docksiders and Renaissance Re.
Some of charities who have benefited from the Bermuda Irish Association's community initiatives include the Salvation Army, Big Brothers and Big Sisters and the Help Neehari Nuke Cancer fund among others.
$4,500 of the funds were donated to the Eliza Doolittle Society following the Association's annual "End of Summer/Half Way to St. Patrick's Day" event held in late September.
Cheque presentation to the Eliza DoLittle Society. From left to right are Brian Quinn, President of the BIA, Michael Veale, Treasurer, BIA, Barry Murphy, CFO BTC group, Carole Paynter and Sarah Mardon both from the Eliza DoLittle Society.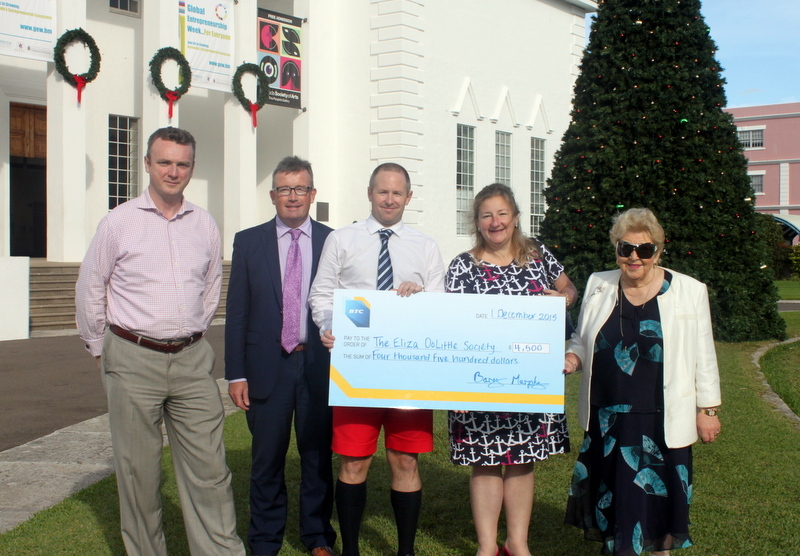 Barry Murphy, CFO of BTC stated: "We are committed to investing in the community and we're honoured to aid in the Bermuda Irish Association's efforts to help the Eliza Dolittle Society and others.
"It is extraordinary to see companies and people in Bermuda join together for worthwhile initiatives. BTC is a company that Bermuda can count on and taking a leading role in being a part of this came naturally to us."
"The Bermuda Irish Association exists to facilitate social and business contact between Irish people living and who have lived in Bermuda," the BIA said.
"Their events throughout the year aim to support select local Bermudian charities that both benefit the community and demonstrate the Irish support of local worthy causes.
"The Bermuda Irish Association gratefully acknowledges the ongoing support of the Honorary Consul of Bermuda, John Kane.
"Their next event will be our Christmas Lunch on December 17that Port O'Call and our chosen charity for our Christmas event will again this year be the Salvation Army.
"The Bermuda Irish Association would like to thank all of corporate companies for their contributions, along with the members of the Irish community who support and show up to make social events with great Irish flair and craic."
Read More About