The Bermuda Irish Association [BIA] recently held their Christmas lunch on December 17 at Port O'Call, where they presented the Salvation Army Band with a cheque for $3,410, including a $1,500 contribution by Digicel, which the BIA raised for them in order to help them continue the work that they do for the poor and needy of Bermuda during the holiday season.
A spokesperson said, "The lunch this year marked the first anniversary of the Bermuda Irish Association, which was formed in 2013 by Brian Quinn and Aine Madden.
"The Bermuda Irish Association exists to facilitate social and business contact between Irish people living and who have lived in Bermuda. All are welcome to join the Association and to attend our many functions held throughout the year.
"Our events throughout the year aim to support select local Bermudian charities that both benefit the community and demonstrate the Irish support of local worthy causes."
Right to left: Michael Veale, BIA Treasurer, Brian Quinn & Aine Madden, BIA Presidents, & Shane McDonnell, Digicel, all with the Salvation Army Band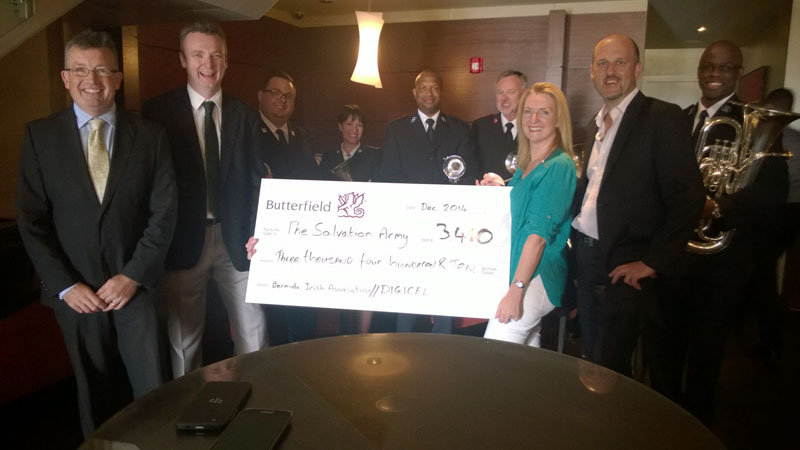 "The Bermuda Irish Association gratefully acknowledges the ongoing support of the Honorary Consul of Bermuda, John Kane.
"Over the past 12 months, we have successfully arranged four events, bringing the Irish people of the island together to celebrate all we have in common.
"So far we have raised nearly $10,000 for local charities, including generous matching donations from Digicel, a contribution from Flanagan's, and subsidies from Kioko Charters and Port O'Call restaurant.
"The charities that have benefited include the Salvation Army of Bermuda [Christmas Lunch 2013 and 2014], the Bermuda Diabetes Association [Paddy's Day Evening 2014], Big Brothers and Big Sisters of Bermuda [Paddy's Day Evening 2014], and Meals on Wheels Bermuda [End of Summer Cruise/Half Way to Paddy's Day - Oct 2014]."
Read More About
Category: All