News that the New Life Church of Nazarene held a special service to honour some of Bermuda's "unsung heroes" of local volunteering, Charles Webbe and Linda Paynter were recognised  in the Queen's 2016 New Year's Honours List, and KPMG in Bermuda made a $150,000 contribution to Bermuda's youth sailing team were all some of the positive news stories from the past week.
In other good news, Kinezumi Water Sports is set to launch in Bermuda next summer, Chef Michiko Campbell made a $3,000 donation to a Bermudian battling a rare form of cancer, Rai Simons scored twice in a Chesterfield victory, young singer Terron Webb won the Junior Calypso Competition in the St. Kitts National Carnival and three young people received the Clyde Best scholarship awards.
We also posted various community photo galleries, including coverage of the New Year's celebrations on Court Street, New Year's fireworks in St. George's, the Aon Benfield Fecchio golf tournament, harness pony racing, motocross action, football, and more.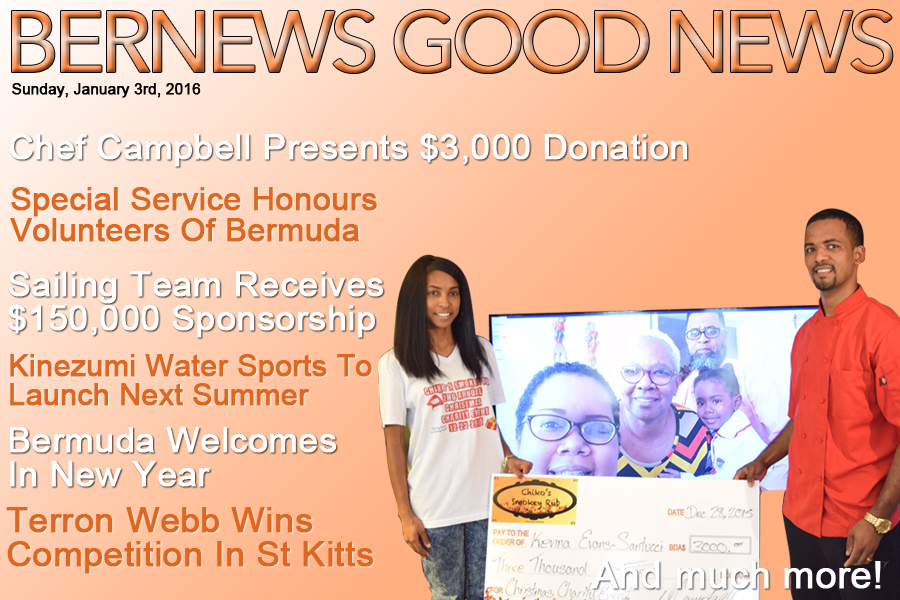 In an effort to highlight some of positive news happening in our community, we supplement our standard morning and evening email newsletters with a special Sunday "Good News" email newsletter edition, which strictly focuses on the positive news from the past week.
You can sign up to have the free newsletter delivered via email here, and/or access the links below. In addition, for those who like positive news, please feel free to visit our sister site ForeverBermuda.com, which seeks to showcase the best of Bermuda as well as provide information and listings for visitor related services.
Links to some of the 'good news' from the past week are below:
Read More About