[Opinion column written by Minister Shawn Crockwell]
I gave a speech in the House of Assembly last week that was received so warmly by my colleagues that I thought I would share a shortened version with all interested Bermudians though Bernews.
Bermuda's adverse economic conditions did not start in 2012 when the One Bermuda Alliance became the Government. The things that the Honourable members of the Opposition are reporting that they are hearing on the street are the same things we heard on the street in 2010, 2011, and 2012. People were stopping us and complaining in the same terms.
So let's not act like these challenges have just come to the fore. I accept that members of our community are struggling, but I take exception to Honourable members in this House who want to say that people on this side don't care. People are frustrated, and yes, they will take their frustrations out on the Government of the day.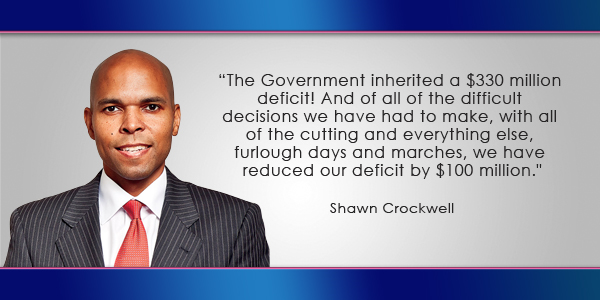 Yes, we in the OBA saw certain things in the bye-election of Constituency #13. We know that we have work to do. It doesn't take a rocket scientist to figure it out.
What we inherited was a serious situation. There was a reason Honourable members on the other side lost the election in 2012. It happened because the country was headed in the wrong direction. That's a fact. Our economy was, and still is, in debt… in terrible shape.
I talked to some individuals the other day who are saying the exact same things that Honourable members on the other side are saying – they are frustrated and feel the OBA doesn't care about them.
I sat down with them and had a conversation. They said you want to take furlough days from the civil service and you want to take this and take that. Why are you hurting us? I took some time to explain it to them. I said let's not talk about the debt. Let's talk about the $170 million we pay in interest on the debt. By 2017, our interest on debt may be the highest expenditure of the government… more than any government Ministry.
I asked if they realised that when the OBA government assumed power, Bermuda had a $330 million deficit. I talked about what they earned a month. Just for the sake of example, let's say they earned $2,000 a month and their expenditure was $6,000 a month. That's a monthly deficit of $4,000.
The Government inherited a $330 million deficit! And of all of the difficult decisions we have had to make, with all of the cutting and everything else, furlough days and marches, we have reduced our deficit by $100 million.
That's a lot of money. But we've still got $200 million to go. What that means is that there's more pain to come. We're not going to fix the problem without pain.
When the PLP became the government, it was a healthy economy. They had years of boom and success. The question is what did they do with those boom years? How did they manage the record revenues they received? You can't blame this government for putting us in this mess. You can blame this situation on the global economy, or whatever you want, but you can't blame this government.
If a man gets cancer because he made bad choices, he'll go to his doctor and say, "You gotta fix me, Doc!' The doctor's going to tell him, "Look, this isn't going to be easy. You're going to have to have some pretty unpleasant treatment."
Who's to blame for that? Sometimes we persuade ourselves that the doctor was at fault. We shouldn't, but we do. And so when we became the government I knew that because we had such a difficult problem to fix, and because the remedy was going to be so painful, people were going to be upset, and they were going to blame us. They were going to forget how Bermuda got in the mess we're in and focus on who ordered up the painful medicine we need to swallow.
The defeat we suffered in the bye-election told us that we are going to communicate better. We can't stop the painful medicine, but perhaps we can explain our reality better to the electorate.
I've heard people say that we need to take care of the poor. But we're doing that!
This Government has increased the Financial Assistance budget while we have been trying to cut budgets. We have increased our Financial Assistance budget by almost $20 million. We are spending $60 million or thereabouts on Financial Assistance.
And if anyone around the table wants to suggest that we might have to look at cutting Financial Assistance, don't bother. We just cannot do that, because we have to make sure that those people who are in that condition have support. So I'm not accepting the accusation that this Government doesn't care. We are supporting individuals.
But as the Honourable Attorney General said, when people complained that we haven't increased pensions – how are we going to do that when we have nothing? We are broke! Bermuda, we are broke. We have an annual deficit, every year. We are spending $170 million in interest. We are not even touching the principal yet. So yes, we are in a difficult situation and we are all in it together.
I was at a family function a couple of weekends ago and somebody said, well, you found $70 million for the America's Cup. That's the PLP's message that's getting out there. I said, well, yes, we have, but we're not giving it away, it's an investment. It's an investment and we expect to get a substantial return for Bermuda. I guess we haven't done a good job of explaining that.
Recently, I got to see some evidence of how the America's Cup is helping Bermudians. I went down to Morgan's Point. I was given a tour of the Artemis facilities. I saw a contractor with his crew… a well-known PLP supporter. He said he'd been there for a couple of months. "This has been great," he said. "I've had seven to ten staff here, young guys, all Bermudians. We've got about two or three more months to go. it's a good project'.
I asked the Artemis people how many of their staff were stationed at the site. The answer was between 55 and 60. They had 52 people actually resident in Bermuda, living throughout the West End. They anticipated that that between now and the America's Cup, Artemis alone will spend about $2 million in rents.
That's one team. How can people say Bermudians are not benefitting from the America's Cup? Add in the other resident teams and you will see how our investment is paying off. Very large sums of money are being paid to the Bermudians who are involved as contractors, as landlords, as people who provide transport and groceries and all the other goods and services that people need to live, and sailing teams need to get to the peak of their abilities.
That money doesn't just go into the bank accounts of Bermudians who work with the America's Cup people and sit there, they themselves use it to pay other Bermudians for the supply of goods and services. It spreads very widely in our economy.
There's your evidence. Long before the America's Cup event has begun, it is having a significant benefit to Bermuda and Bermudians.
- Shawn Crockwell

20 Most Recent Opinion Columns

Opinion columns reflect the views of the writer, and not those of Bernews Ltd. To submit an Opinion Column/Letter to the Editor, please email info@bernews.com. Bernews welcomes submissions, and while there are no length restrictions, all columns must be signed by the writer's real name.
-
Read More About