Ben Ainslie and Jimmy Spithill had big recoveries on Saturday to vault to the top of the leaderboard at the Louis Vuitton America's Cup World Series in Oman.
Ainslie and his team were the class of the field. After incurring a penalty for starting prematurely in the first race, he sailed back up the fleet to salvage a third place finish.
Then, two victories. And Land Rover BAR finished the day four points clear. But Ainslie said it was anything but easy in the light winds.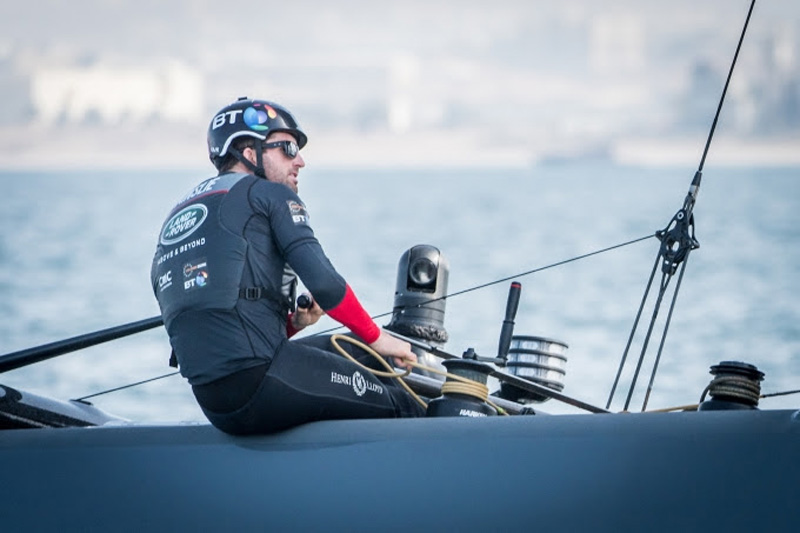 "These conditions make it very challenging for everyone on board," he said. "You need a decent start and to go the right way, so it's tough on the tacticians. And then the big Code Zero headsails make for hard work for everyone else. It's a big day for the team."
ORACLE TEAM USA appeared to be in jeopardy at several points during the afternoon. But when the points were tallied, Spithill had his team in second place.
"Racing in these conditions is something we know we have to work on, so this has been great for us," Spithill said. "I thought Tom Slingsby did a great job finding the wind. I think the boys took a step in the last race on our boat speed. There's still a lot to learn in the light stuff. We want to get better in these conditions. We're improving each race."
Emirates Team New Zealand sped away to a 'horizon job' victory in the first race, but fell back into the fleet later in the afternoon. For skipper Glenn Ashby it simply felt good to be out competing again.
"Great racing out there today," he said. "It's been so long since we all battled it out. It felt good. We had a great first race, but unfortunately we got bounced around a bit in the last one."
SoftBank Team Japan skipper Dean Barker found himself in familiar territory. His team flashed some brilliance, but couldn't hold on through a full race for a strong finish.
"I'm happy with the improvements we're making," he said. "We can see that we're getting better. The last one was frustrating. It was looking so good for a while. But one mistake can be so costly. We're just making little errors and in this fleet you get punished for it."
Artemis Racing tactician Iain Percy had to take solace from the good moments as the team didn't get any breaks, ending the day equal points at the bottom of the table with Groupama Team France.
"I'm really happy with the way we sailed and our speed, we just didn't get the normal clean starts we needed," he said. "We were going fast and I'm looking forward to tomorrow. If we get our start, it will be hard to catch us."
Adam Minoprio, sailing in his first Louis Vuitton America's Cup World Series event on the helm of Groupama Team France said he needs to get better starts to earn better results at the finish.
"The startline line was pretty short so there wasn't a lot of room," he said. "I don't think I was aggressive enough. But the team kept it together and we managed to claw back points around the race course. I need to fight for my spot. The other guys have been doing these reaching starts for a year already, so I need to learn fast."
Fortunately for Minoprio and the others chasing Ainslie, the regatta format offers a chance at salvation. Super Sunday racing has double scoring points on offer in all three races scheduled. So the leaderboard may look very different in 24 hours.
For a full guide on Where to Watch, click here.
Saturday marked the first America's Cup racing in the Middle East. With the support of Oman Sail, which runs a youth sailing program similar to AC Endeavour, 30 talented young Omani sailors participated in a parade of sail ahead of today's racing.
The national initiative is dedicated to inspiring young Omanis to take up sailing, and is central to Oman Sail's mission of reigniting the country's rich maritime heritage.
Since its launch in 2008 Oman Sail has introduced the sport of sailing to more than 20,000 Omanis through its programs.
On Saturday, 30 of its most talented junior sailors took to the same waters that play host to the first Louis Vuitton America's Cup World Series event of 2016 to show off just how good they are.
"I'm incredibly impressed with what Oman Sail and its partner Omantel have achieved – it's wonderful to see," said Russell Coutts, the CEO of the America's Cup Event Authority.
"I had the chance to see these junior sailors racing this morning and I've got to say I was very impressed with the way they sailed and the skills they put on display.
"It's my hope that we will see one of these young sailors go forward and win an Olympic gold medal and perhaps one day be at the helm or crewing an America's Cup boat. I think that would be fantastic."
David Graham, CEO of Oman Sail, added: "The Oman Sail Youth Program is at the heart of what we do at Oman Sail. It was wonderful to see these children out on the water racing today. This has all happened because of Omantel and their continued investment in youth sailing."
Provisional Results:
Race 1 – Saturday
Emirates Team NZ – 10 points
ORACLE TEAM USA – 9 points
Land Rover BAR – 8 points
Artemis Racing – 7 points
SoftBank Team Japan – 6 points
Groupama Team France – 5 points
Race 2 – Saturday
Land Rover BAR – 10 points
SoftBank Team Japan – 9 points
Groupama Team France – 8 points
Emirates Team New Zealand – 7 points
ORACLE TEAM USA – 6 points
Artemis Racing – 5 points
Race 3 – Saturday
Land Rover BAR – 10 points
ORACLE TEAM USA – 9 points
Artemis Racing – 8 points
Groupama Team France – 7 points
SoftBank Team Japan – 6 points
Emirates Team New Zealand – 5 points
Louis Vuitton America's Cup World Series Oman Leaderboard after 3 races:
Land Rover BAR – 8, 10, 10 – 28 points
ORACLE TEAM USA – 9, 6, 9 – 24 points
Emirates Team NZ – 10, 7, 5 – 22 points
SoftBank Team Japan – 6, 9, 6 – 21 points
Artemis Racing – 7, 5, 8- 20 points
Groupama Team France – 5, 8, 7 – 20 points
Photo courtesy: Ricardo Pinto

Read More About