[Opinion column written by Diallo Rabain, the PLP candidate for this week's by-election]
Being on the doorstep in constituency 13, Devonshire North Central, has been an incredibly rewarding experience. Representing a party that strives to make our country work better for it's residents, I have heard first hand the hopes, difficulties, triumphs and desires of constituency 13 members.
Jobs and the economy, seniors, education, and the need for good governance are among the areas of concern that we frequently hear from the Bermudians we speak to, and this experience has caused me to once again renew and strengthen my commitment to tackling these issues, namely through the advancement of the policy positions of the Progressive Labour Party, laid out in our Reply to the Throne Speech.
The Progressive Labour Party sees that our island needs an education system that gives our children the ability to become critical thinkers and informed scholars, able to compete on the local and world stage.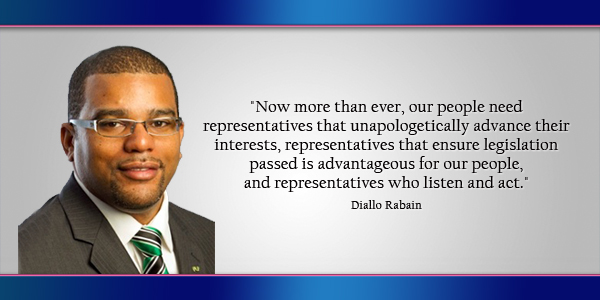 Our seniors who paved the way must be able enjoy and live out their retirements with dignity, and the ability to live meaningful and fulfilling lives without being cast as unwanted government expenditure. Our seniors must have health care that allows naturopathic and holistic treatment, addressing the cause of illnesses, rather than simply treating the symptoms.
Our young and middle aged adults desperate for work should no longer be subject to policies that put Bermudians second, and make finding meaningful employment impossible.
While the Premier and his government are content to solve our employment problems through pointing our youth to careers in farming, the PLP stand for economic diversification through attracting industries such as FinTech, which will provide opportunity for our people. These differences in approach the priorities of each party, and I am pleased to be a part of a PLP that stands strong for Bermudians.
In a country where our seniors are struggling, our infrastructure is being neglected, our economy is in need of diversification, our schools are targets for heavy budget cuts and our youth are turning to disruptive behaviour, this by-election will serve as an indication of the direction the people of Bermuda wish to see this country go.
Now more than ever, our people need representatives that unapologetically advance their interests, representatives that ensure legislation passed is advantageous for our people, and representatives who listen and act. These things I endeavour to do with the support of constituency 13.
- Diallo Rabain

20 Most Recent Opinion Columns

Opinion columns reflect the views of the writer, and not those of Bernews Ltd. To submit an Opinion Column/Letter to the Editor, please email info@bernews.com. Bernews welcomes submissions, and while there are no length restrictions, all columns must be signed by the writer's real name.
-
Read More About