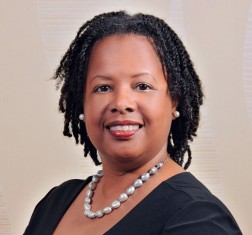 The statement from CURB about the impact of the proposed immigration changes was "ridiculous and quite obviously discriminatory," said OBA Chair Senator Lynne Woolridge.
Yesterday, CURB said the proposed legislative changes "ensures that there is an increasing white population on the island, and polls have shown that over 90% of white voters vote for the same party, as such the proposed legislation will affect political power in Bermuda for decades."
CURB's statement follows after the Government announced they plan to amend the law, with changes to include any person who is ordinarily resident in Bermuda for 15 years becoming eligible to apply for permanent residency, and any permanent resident who is ordinarily resident in Bermuda for 20 years becoming eligible to apply for Bermudian status.
In response, Ms Woolridge said, "In September of last year, when Minister Fahy was under attack by the PLP for his efforts to improve Bermuda's Immigration policies and procedures, he made this unequivocal statement:
"I must say in the strongest possible way that this Government is not in the business of encouraging immigration from the UK or anywhere else.
"In fact, I have said on record any number of times that what happened then was wrong and does not represent what the OBA stands for."
"In its statement published this morning, CURB's spokesman Lynne Winfield says there is a link between what the Minister has done in his Pathways to Status to "past attempts to economically and politically discriminate against black Bermudians, and through contemporary immigration policies to ensure a "whitening" of the Bermudian population to ensure political control."
"That's a ridiculous and quite obviously discriminatory statement. The only connection between Michael Fahy and what went on in centuries past is the fact that he and most of the people involved then were white. Do all whites, in Ms Winfield's eyes, discriminate against blacks? I don't believe so, and would hope that the vast majority of Bermudians don't, either.
"Immigration law and policy in Bermuda is a hodgepodge of stop-gap measures that failed to produce long-term, sustainable solutions. The previous government acknowledges that it made mistakes during its time in power that have had a serious impact on our economy and that have run us afoul of baseline international human rights standards.
"The status quo is unacceptable. This is especially the case in a jurisdiction as modern as Bermuda holds itself out to be. The status quo has led Bermuda to fall afoul of its international legal and human rights obligations under the European Convention on Human Rights and the International Covenant on Civil and Political Rights.
"Blanket bans on obtaining such residency rights, as are now in place, are not consistent with the European Convention on Human Rights.
"Perhaps Ms Winfield and others believe that there is no reason why Bermuda should be bothered by these conventions when it comes to Immigration.
"Let's not kid ourselves. We have a duty, as do all civilised countries, to live up to globally accepted human rights standards.
"Additionally, in Bermuda, we have been overtaken by events. The Chief Justice's decision in Carne and Correia, a case made possible by a mistake of the previous administration, made it clear that part of our Immigration policy was not only unfair, but unlawful, and needed to be altered.
"We cannot, as the Opposition have suggested, make some new law to get around this problem. Laws cannot be made retroactively. Once out of the bag, the cat cannot be made to go back. The courts will hold our feet to the fire if we try.
"The United Nations adopted a Declaration on the Rule of Law at the National and International level on 24 September 2012. It reaffirms that "human rights, the rule of law and democracy are interlinked and mutually reinforcing and… they belong to the universal and indivisible core values and principles of the United Nations."
"CURB is on the wrong side of this argument. Instead of making emotional appeals that pander to the fears and prejudices of a segment of Bermudians, I suggest that Ms Winfield and others who feel as she does should stop and think for a moment.
"We must never forget our history, but in today's context, while the world is watching, we must understand that the Minister is doing the right thing. That will be obvious to those who are able to make a clear and unprejudiced judgement."
Read More About