Greenrock is reminding the public that Earth Hour 2016 will be celebrated on Saturday, March 19 at 8.30pm, even in light of "ongoing public demonstrations and various forms of industrial action."
A spokesperson said, "As the community is aware, this week has featured ongoing public demonstrations and various forms of industrial action. We have reviewed our ability to hold this event as scheduled, and have concluded that, as things stand, we are in a position to do so."
"We recognise however that, due to the events of the last week, the community is slightly 'on edge'.
"With this in mind we would like to remind the public that, in the midst of so much uncertainty, our Earth Hour celebrations provide the country with an excellent opportunity to unite in support of a sustainable future for Bermuda – something we sincerely hope that each and every one of us agrees is vital for ourselves, our children and future generations.
"Earth Hour is a family-friendly event at Waterfront Properties featuring live entertainment, BELCO bikes, face painting, and the 5K Glow Fun Walk & Run through the streets of Hamilton. As safety is our main concern, we would like to stress that there will be road closures and street lights off along the route, as well as police directing traffic at key intersections.
"Please refer to the attached map showing the 5K Glow Fun Walk and Run route along with details listed at the end of the statement regarding road closures and the key intersections being managed by police.
"The 5K Glow Fun Walk & Run is an event that everyone can enjoy regardless of age, gender or athletic ability."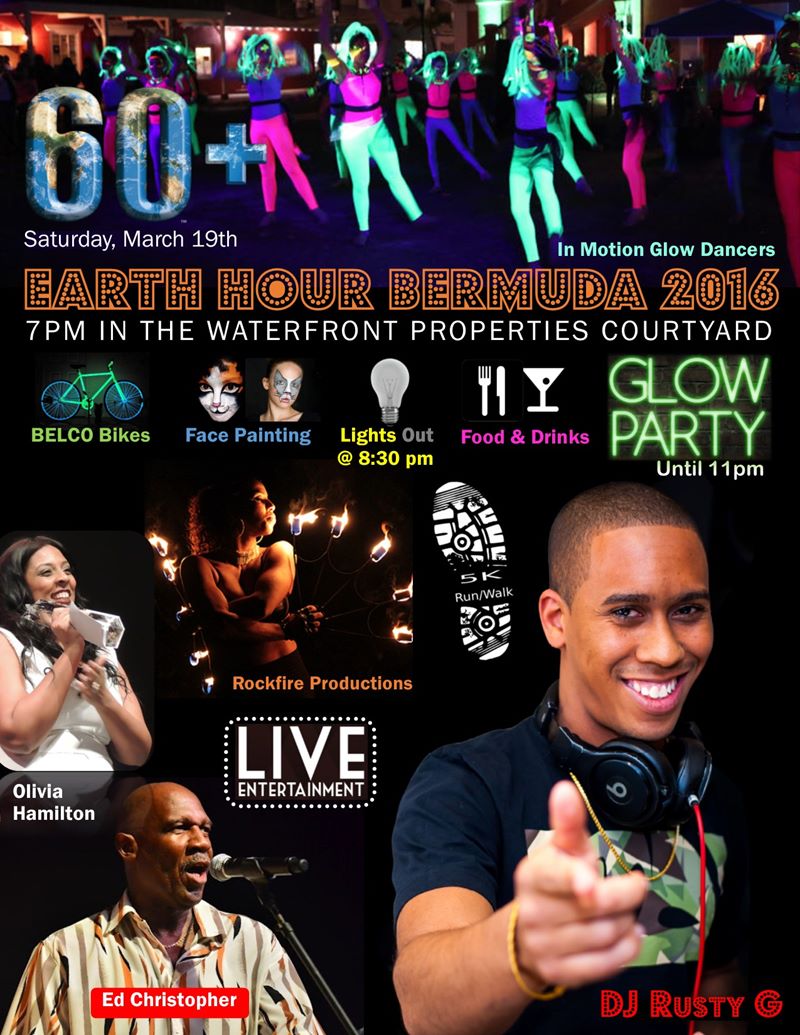 "We can all show our support by running, walking or even pushing a stroller. There will be music throughout the course along with special features such as bubbles, lanterns, a 40ft glow tunnel and an inflatable obstacle course.
"Earth Hour seeks to raise awareness about climate change and the need for sustainable solutions for our planet. It is primarily a symbolic event – and this is the purpose of switching off lights while also 'lighting up' the streets with people power.
"We would like to remind participants to wear reflective materials or clothing and encourage you to use reusable glow items rather than single use items which will likely be disposed of after the event.
"To make these products more accessible we have a Glow Store on our website [earthhour.bm] where you can purchase a variety of reusable glow products and pick them up before the event.
"We also encourage everyone to bring a reusable water container for use at our free water station provided by Bermuda Waterworks Ltd.
"If you are interested in participating, it's not too late; register on our website or stop by our same day registration desk this Saturday at City Hall from 10am – 2pm or at the Waterfront Properties from 6pm until the Glow Fun Walk & Run begins at 8:30pm.
"Want to help with the event? We would love to have your assistance. Just go to our website [earthhour.bm] and click on the volunteer link, there are a number of volunteer opportunities available."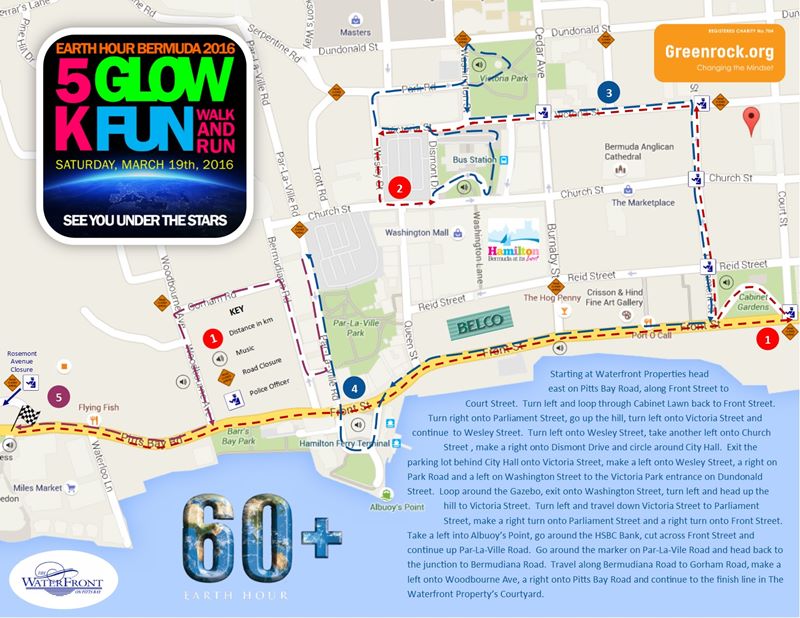 "After the Glow Fun Walk & Run, we will be celebrating in the courtyard with a glow dance performance by In Motion, fire spinners from Rockfire Productions and a Glow Party featuring DJ Rusty G! There will be food, soft drinks, beer and wine for sale. Please refer to the attached poster for more details about our Earth Hour Celebrations in Bermuda.
"For more information on Earth Hour please visit our website: earthhour.bm.
"We look forward to seeing all of you out enjoying Earth Hour this Saturday.
"Police will be controlling traffic at the following junctions: Front Street and Court Street; Parliament Street and Reid Street; >Parliament Street and Church Street; Parliament Street and Victoria Street; Cedar Avenue and Victoria Street; and Rosemont Avenue and Pitts Bay Road
"In addition to police presence at these junctions we will have volunteers throughout the course serving as road marshals.
"The following roads will be closed during Earth Hour: Gorham Road; Bermudiana Road; Par-la-ville Road; Wesley Street; Park Road; Washington Street; Parliament Street; Victoria Street from Wesley Street to Parliament Street; Pitts Bay Road from Rosemont Avenue to Bermudiana Road; Front Street from Bermudiana Road to Court Street; and Woodbourne Avenue from Pitts Bay Road to Gorham Road."

Read More About
Category: All, Entertainment, Environment