More than $10 million will have been spent over two years on improving buildings at the Royal Naval Dockyard, according to the chairman of WEDCo Ray Charlton, who was speaking at the recent sixth annual pre-season breakfast held at Bone Fish, in Dockyard, which was held to inform businesses in the area about WEDCo's upcoming plans for the historic site.
He told the audience: "This last year and for the coming year, WEDCo will have spent $10m on improving buildings. It has been a busy year and it is about to get even busier."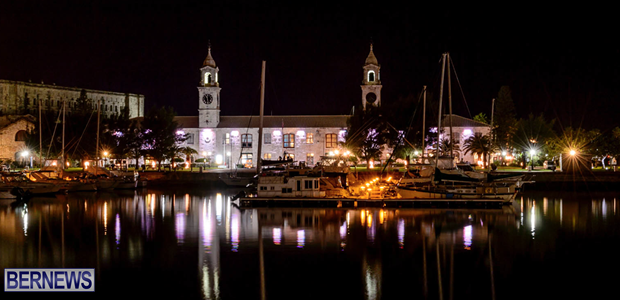 The audience also heard about a series of new attractions in the Royal Naval Dockyard including a permanent zip line, possible tethered helium balloon that would give unrivalled views across Bermuda, new shops and the America's Cup Endeavour programme which is due to start this summer.
In addition, Andrew Dias, WEDCo's general manager, said a $900,000 renovation of the Glassworks building would soon be completed and that work on Cross Island making a base for the America's Cup village was on schedule.
Mr Dias said piling was in its final phase and the area should be completely finished by the end of June. "We have stayed on deadline and on budget," said added.
"Some of the larger projects include the Glassworks renovation [$900k]; work on the Sail Loft [$500k]; Spar Lane Apartments [$300k]; Prince Alfred Terrace [$3.5m];  Hangar building on Boaz Island [$300k]; North Basin building #4 [$1m];  Detached Cottage #7 [$300K] Moresby Plains Road [$200k]," a spokesperson said.
Mr Dias added: "WEDCo's mandate is to look after and improve the beautiful and historic buildings in the Royal Naval Dockyard and these projects, including the in-fill at Cross Island, have been in the pipeline for several years and I am delighted that people can now see the benefits of all our work.
Mr Dias said that by the end of 2016, WEDCo will have reached a milestone in that every historic building inside the North Basin will be wind and waterproof, apart from the Victualing Yard and associated buildings, which are presently being looked at under a Memorandum of Understanding.
"In Bermuda, that is an extremely large task and we, at WEDCo, are very pleased with that."
"It has been a busy and challenging eight or nine months for us but this is going to be a great season. The season will continue to build towards the America's Cup and we want to deliver a product for Bermuda that all of us can be proud of."
Read More About