The Rainbow Alliance of Bermuda "condemns the Bermuda Government's move to have a referendum on marriage equality," the group said today, adding that "with many LGBTQ Bermudians forced to leave home" because of discrimination, "it is likely that a referendum will not have an accurate reflection of those that will be impacted by the decision."
This follows after the announcement yesterday by Premier Michael Dunkley that the Government will table a Referendum Bill so "that the people of this Country can express their opinions on same-sex marriage and civil unions via a Referendum."
A statement from the group said, "The Rainbow Alliance of Bermuda condemns the Bermuda Government's move to have a referendum on marriage equality. We agree with the assessment of the Centre for Justice that a referendum is an inappropriate method for making human rights decisions that impact a small minority of Bermuda's population.
"The proposed Matrimonial Causes Amendment Act 2016 would effectively legislate discrimination, as pointed out by the Human Rights Commission. The Rainbow Alliance of Bermuda stands by the HRC's analysis and underscores that inequality cannot be enshrined in Human Rights Law.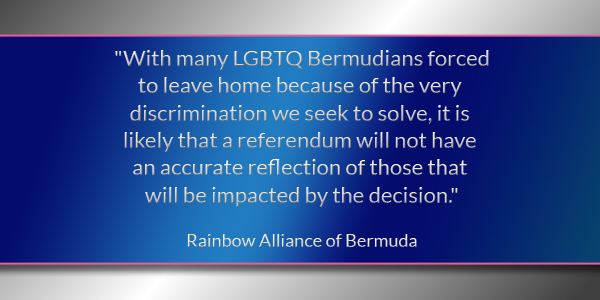 "It appears that the OBA government is attempting to fix this poor legislation with another cowardly route away from equity for LGBTQ [lesbian, gay, bisexual, transgender, and queer] people.
"If the government maintains that marriage is between a man and a woman, how are they also suggesting that civil unions are a viable comparison for same-gender-loving couples?
"During the information session on February 15, Minister Pamplin-Gordon said in reference to taking the question to the people of Bermuda: "Many human rights have had to be fought for by minorities [...] What we don't want to do is to put ourselves as a country in the situation in which a majority of people say that we are willing to trample on the rights of a minority [...] That would specifically be in violation of the preamble that we have to our human rights act [...]: 'Recognition of the inherent dignity and the equal and inalienable rights of all members of the human family[...]'" We are saddened to find that her words were merely lip-service to equity.
"To quote the former Premier Cannonier when he declared that the referendum on gaming would be cancelled, "This matter is too important for political games." A referendum on marriage equality seems like a political move by a party afraid to show leadership on a human rights issue.
"In December 2013, the OBA government broke its campaign promise for a referendum on gaming. Since then, there have also been calls for referendums on immigration reform, education, and cannabis reform. It is hypocritical that the government decide to play political games with the legal rights of a minority of oppressed individuals.
"The Finance Minister has only just shared the debt Bermuda is faced with during the recent Budget. Referendums cost approximately $350,000. This issue should not be decided by such a costly means.
"Similarly, with many LGBTQ Bermudians forced to leave home because of the very discrimination we seek to solve, it is likely that a referendum will not have an accurate reflection of those that will be impacted by the decision.
"We hope that if the Government proceeds with this disappointing referendum, that they hold it during the summer holidays, which would allow a chance for some students who are typically abroad to have a say in this matter.
"If it does turn out that a majority of Bermudians do support marriage equality, we would expect Government to remove its objectionable policy regarding civil unions and to legislate marriage equality fully.
"Prolonging this decision for a referendum also ushers in more months of campaigning full of rampant homophobia and transphobia that will cause considerable mental anguish and heightened discomfort for the LGBTQ  community.
"Particularly, the Rainbow Alliance of Bermuda would like to underscore how damaging a continuation of hateful rhetoric will be on LGBTQ youth that are simply trying to exist in a country that forcefully tells them they are somehow abnormal. We affirm the existence of our young LGBTQ Bermudians and encourage them to remain hopeful about the future: it gets better.
"We urge the OBA to reconsider this hasty course of action.
"As always, the Rainbow Alliance of Bermuda remains committed to providing safer spaces for the LGBTQ [lesbian, gay, bisexual, transgender, and queer] community.
"It is made up of a diverse group of young Bermudians that are involved in many areas of other social justice advocacy and community work. There are no official spokespeople and all statements are written collaboratively."

Read More About