In the fifth in a series of profiles of the young men competing in this year's Alpha Beautillion, we spotlight Bermuda Institute student Rollin Roy Nathan Jr.
His profile, courtesy of the Alphas, says: "Rollin Roy Nathan Jr. was born on August 24, 1998 to Rollin Roy Nathan Sr. and Lisa Dianne Richardson. He has two sisters, namely, Tia-Ciara and Tiffany Nathan.
"Rollin is currently completing his senior year at Bermuda Institute, having attended the Bermuda Institute [B.I.] for ten years. During his studies at B.I. Rollin has held the following positions: Class Pastor, Student Council member, Disciplinary Committee member, House Captain and Basketball team captain.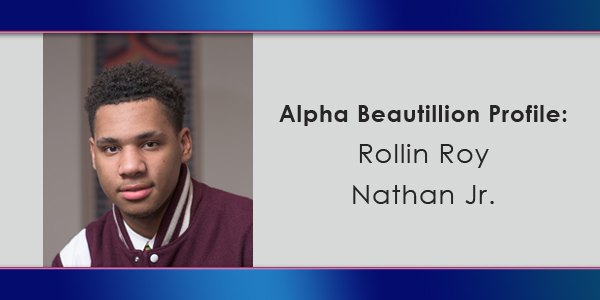 "From an early age, Rollin realised that he had a passion for music. At just three years old, Rollin began learning how to play the drums.
"As the years passed he gravitated towards the piano after he was exposed to a Yamaha electric keyboard while visiting his family in Jamaica. Rollin began to explore other instruments with the help of his father who purchased him a guitar and an alto saxophone.
"Rollin is an active member of the Hamilton Seventh-day Adventist Church having been a member of the Hamilton Pathfinder Club and the United in Christ youth choir.
"Rollin also sings in an all male group called En Harmony. En Harmony has performed at Cabinet and the US Consulate and regularly at concerts, award shows, churches and schools throughout Bermuda.
"Whilst attending B.I., Rollin started playing rugby. In 2016 he was named the high school rugby league MVP. Further, Rollin is a member of the Bermuda under 17 and under 19 national rugby team.
"In the 2016, Rollin was nominated for the Bermuda Teen Service Awards in three categories: most improved, perseverance and performing arts. He was honoured for all three and was the recipient of the most improved award.
"Rollin aspires to attend university in the fall of 2016 to pursue a degree in Business Management and a minor in Sports Business Management or Music. Rollin is a humble servant of God that readily proclaims that he is a testament of God's grace."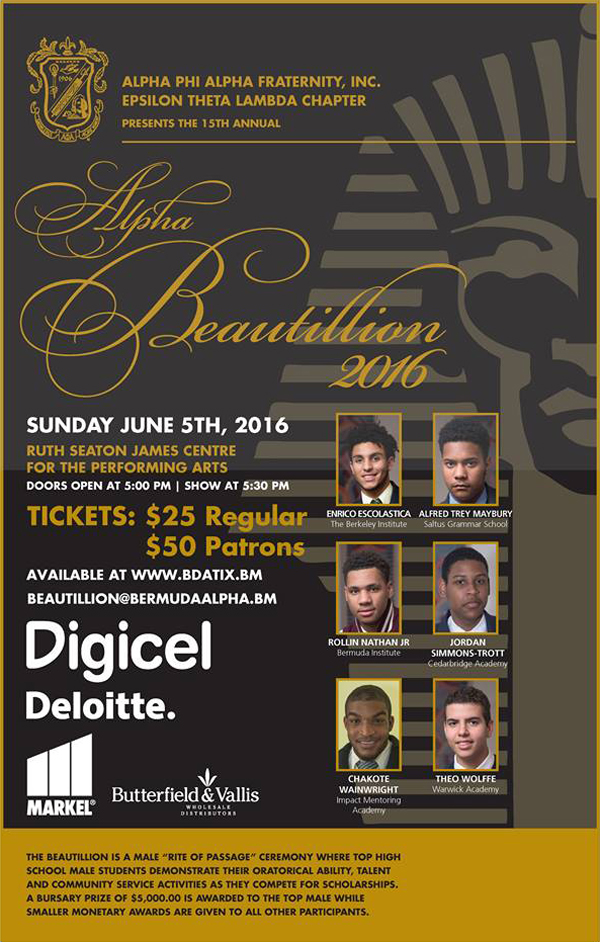 The Alpha Beautillion is a "Rite of Passage" Ceremony where top high school male students demonstrate their oratorical ability, talent, and community service activities as they compete for scholarships, with a bursary prize of $5,000 awarded to the top male and smaller monetary awards given to all other participants.
The 15th Annual Alpha Beautillion will be held on Sunday June 5th at the Ruth Seaton James Auditorium, with regular tickets costing $25 and patron tickets costing $50.
Tickets are available at bdatix.bm, and for more information please email beautillion@bermudaalpha.bm. For all our coverage of the Alpha Beautillion click here.
Read More About