PwC Bermuda has announced its support and sponsorship of a new football programme, the UT7 Football Tournament.
Scott Watson-Brown, managing director at PwC, said, "We are pleased to partner with organisations that engage with our community to make a difference. Supporting youth education and sports programmes is a key part of our corporate responsibility strategy.
"This sponsorship is especially meaningful to us as this event will serve as a memorial for our former colleague Uthmani Talbot."
The new programme is being organised by National Coach Andrew Bascome and Uthmani Talbot's brother, Khomeini Talbot.
"Uthmani insisted that being a footballer wasn't just about the football and sought to help uplift and encourage others," said Mr. Talbot. "We are immensely proud to honour him with the UT7 football tournament."
Mr Bascome said, "With the regular football season coming to an end, there is a critical need to provide the most important footballing age groups; players aged15 up to 25, the ability to continue to develop and play in a structured manner."
The UT7 Football Tournament is open to all players regardless of club, school or college team affiliation.
UT7 organisers, National Coach Andrew Bascome, Khomeini Talbot and Karl Roberts, and employees of tournament sponsor PwC Bermuda: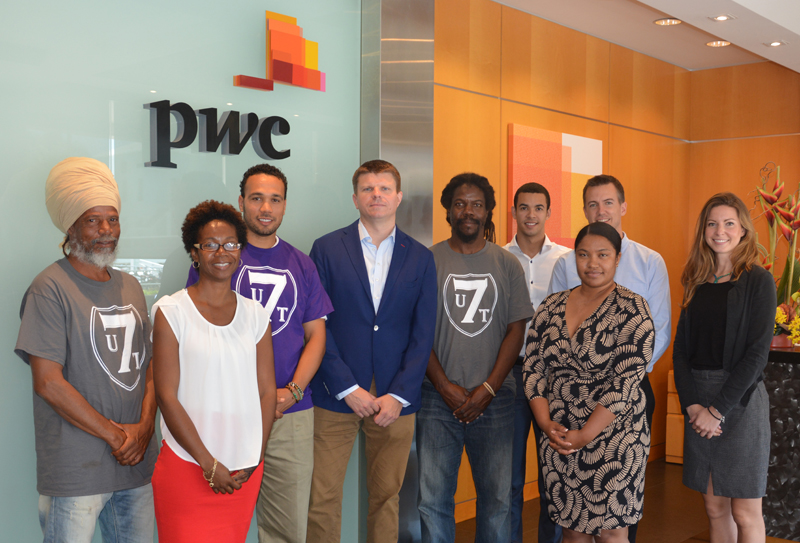 "We are truly inclusive assuming that the players live up to our requirements and respect the code of conduct," Mr Talbot said.
"It is our hope that the UT7 Football Tournament will help fulfill Uthmani's vision of improving the level of football in Bermuda and that his memory will be a unifying force for the community."
To register as a player, visit the website; registration will also be available on training days.
Training sessions are weekly on Monday and Tuesday from 7.30pm to 8.45pm at the BFA Field, with 7-a-side "pick up" games to be played at Warrior Park on Somersall Road in Smith's on Fridays from 6.00pm and Sundays from 5.00pm.
Because of the sponsorship of PwC, and the support from the BFA and X-Roads Warriors FC, the registration fee is $20 per player, which covers the entire 10 week tournament.
For more information, visit the website, email ut7tournament@gmail.com, or call 517-4232 or 300-0822.

Read More About