A new charity recently established by a Bermuda College alumna to woo other females to the trades has named its first recipient.
The Tradeswomen of Bermuda Association and Award is the brainchild of Brenda Carbonette, who graduated from Bermuda College with the Diploma in Heating, Ventilation and Air Conditioning [HVAC] in 2014.
She has named Ms. Marvelyn Rogers as the first recipient of the $3,000 scholarship established to get more females interested in the applied sciences. The award is presented to the female who is the best all-round representative enrolled in a trade programme, including grades, attendance and extra-curricular activities.
Ms Carbonette noticed the dearth of women in the trades in Bermuda, and decided to do something about it, saying: "Whenever you phoned for an electrician, or plumber, it was always men that turned up."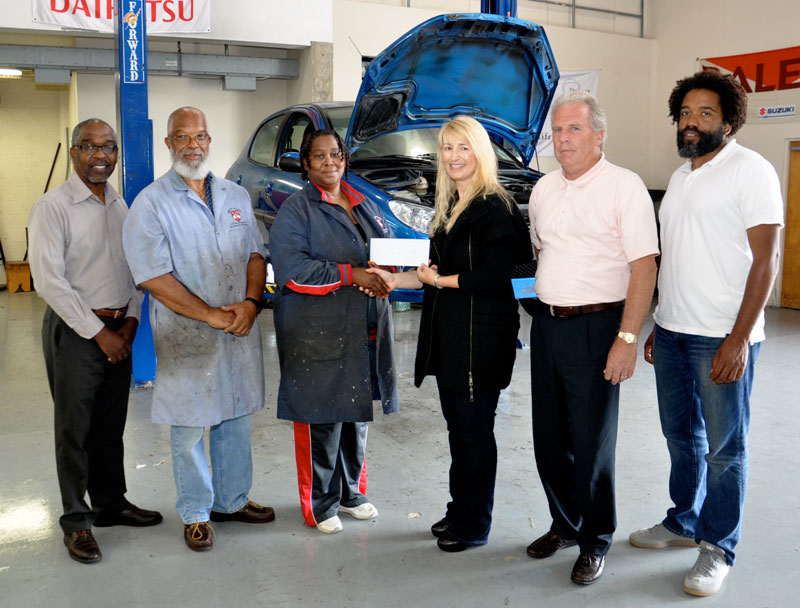 First, Ms Carbonette enrolled at the College, and despite her initial reticence about being the only female in a class of males, quickly warmed to the experience because of the welcome and support she received from both classmates and HVAC Instructor, Cannoth Roberts.
Then, she stayed in contact with the College through Mr. Roberts and began thinking of ways she could attract and recruit other females into areas like electrical wiring, plumbing, HVAC or automotive technology.
"I wanted to start the conversation around why there are so few women working as plumbers or car mechanics, and help more of them get on the career ladder. The other thing about being established in a trade is that if necessary, you can set your own hours. There's a degree of flexibility and choice"
Ms. Rogers is one of two females in the Automotive Technology Diploma programme who will be graduating next Thursday with the Class of 2016.
"I'm elated to receive this," said Ms. Rogers. "I've struggled with the maintenance of my education. Now I can purchase the tools I need. I would tell anyone, 'Don't let your gender discourage you. If you have a passion for something in the trades, jump into it!'"
She intends to study for, and sit the Automotive Service Excellence [ASE] exams for the next step of her journey.

Read More About