A conference with an aim to inspire and empower Bermudians to be the best version of themselves will be held this weekend.
Educator Keema Perry, deputy principal at St. George's Preparatory School is the founder of Powerhouse Academy and is hosting the conference. The event will be held on Saturday, June 4 from 9am to 12pm at St. George's Preparatory School.
The theme of the conference is "You are the Change You Have Been Waiting for." Attendees can expect to learn about the effects of your emotions on your health, good nutrition and fitness, breathing techniques to combat stress and the power of positive thoughts.
Speakers for the conference include:
Dr. Karen Simons, Energy Medicine Specialist who will speak on how your thoughts affect your health, specifically as it relates to organs being in charge of emotions. Guests will understand how your emotions affect health.
Gayle Evans, Owner of Custom Fitness Gym will focus on movement and structuring your day around your life. In addition, Mrs Evans has a passion for debunking the myths surrounding diet and exercise and will share these during her talk.
Melanie Dupres, Homeopath and Yoga Instructor, who will discuss how "Stress Stops the Breath, No Longer Waiting to Exhale". Guests will learn how and why a 60 second breathing technique can help you to take control of everyday stressful situations.
Gaynete' Edwards, Best-selling author of Lucky Code and Huffington Post Contributor, who will discuss "Minding Your Mindset" by delving into a fluff-free presentation about the power of positive thinking and how it can transform your life today.
Mrs Perry says: "Our mission is to empower you to tap into your powerhouse – the gifts and skills you have within by inspiring you to create a positive mindset and find balance for your heart, mind, body and spirit. Each person has a unique set of gifts and skills.
"When you learn to go within and figure out what those unique gifts and skills are, you stop living a life for everyone else and begin to live the life that you were meant to live and enjoy.
"I would like to invite anyone with an interest in being a better person and creating a better life for themselves and their family to join us for the conference as you will walk away with tools to tap into your powerhouse and find balance for your heart, mind, body and spirit."
Tickets are $65 and are available at www.ptix.bm. For more information, contact Darren or Keema Perry at powerhouseacademybermuda@gmail.com.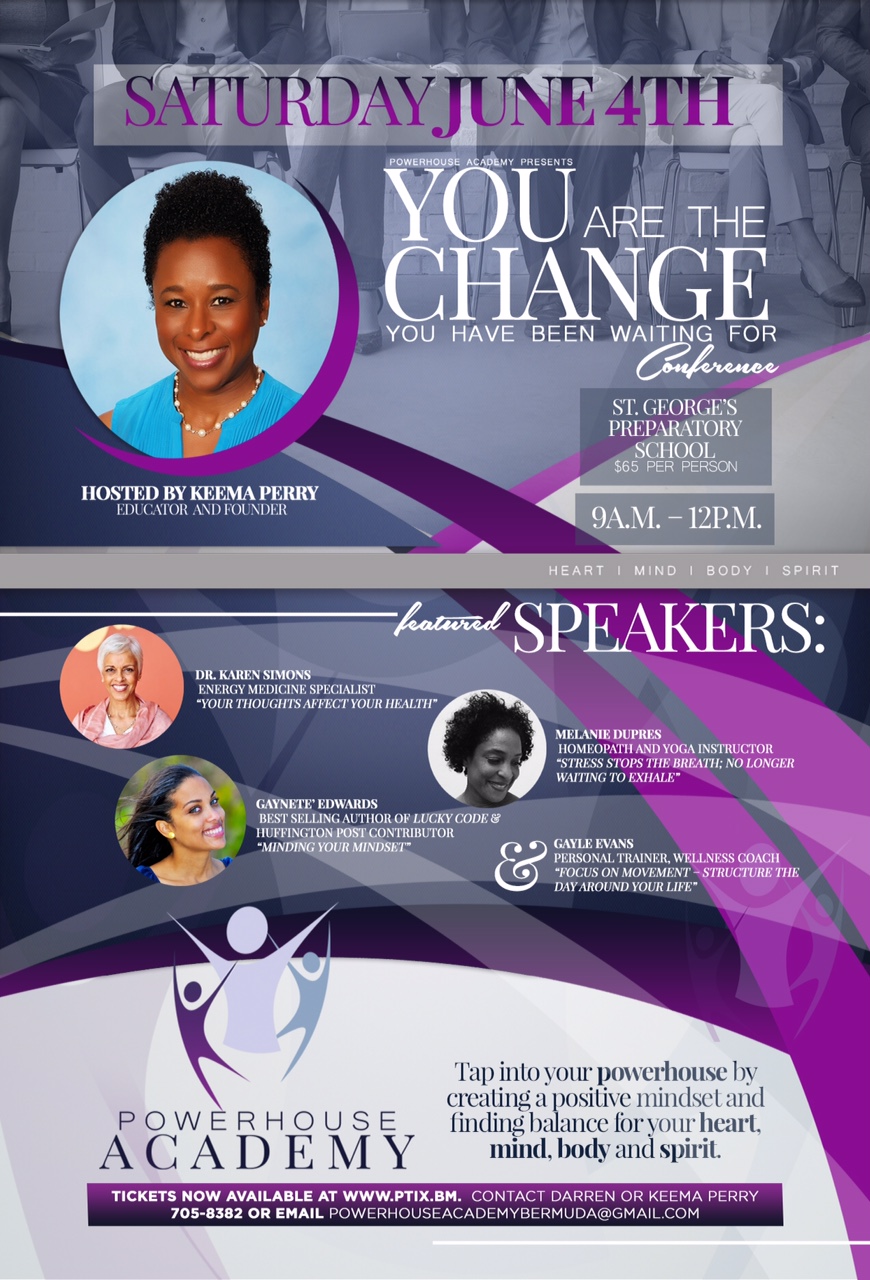 Read More About