Volunteers from two local firms left their desks on Friday [June 3] to spend the day helping to preserve the massive cannon at the National Museum of Bermuda.
Aon Benfield Bermuda and KRyS Global— about 35 volunteers in all— worked non-stop painting the cannon in the mixed weather conditions for their respective community outreach days.
It was a big job and the industrial gloss paint smelled powerful. But volunteers offered no complaints as they worked along the ramparts of the Keep Fort.
.
Jennifer Kempe, AON Benfield executive assistant who was organizing her group, said the volunteers were ready for anything. They just wanted to help.
"Whatever the National Museum wants us to do. We're here for them," said Kempe, who noted that AON was here to volunteer for the second year in a row.
Volunteers—30 from AON and five from KRyS— took on the 19th century cannon and gun placements scattered along the ramparts, plus the slightly more intricate work painting the 18-ton rifled muzzle loader and its carriage at Bastion F.
Tourists packing the Museum grounds watched the work throughout the morning, walking around the many wet paint signs.
The AON workers, wearing bright red shirts advertising "empower" and "results", said they enjoyed the opportunity to give back to the Museum and learn a little more about Bermuda history. They were participating in a world- wide company service day.
During the early morning showers, the volunteers were treated to a tour of the newly reopened Commissioner's House before heading back to their day of labor.
"We always learn something here," said Justin Robinson, an AON broker.
Volunteers weren't afraid to get messy, working through light showers and getting thick glossy paint on shorts and elbows.
"It's good to do these things once in awhile, to give back to the community," said Cecilia Cumigad, vice president in the financial services department.
"I was telling my husband that it's good to learn how to paint and to do away with our calculators" for the day.
The KRyS group, wearing white and blue polo shirts, was participating in its annual give-back day that also marked the anniversary of the company's founding.
They took on the 18-ton MK II 10-inch rifle muzzle loader made in 1871 and its custom-made carriage, painting under and over the huge structure and its many iron screws. The large gun was discovered buried in rubble fill in the Keep Yard in 1989.
"We're definitely no Graham Foster," joked Dylan Marshall, a KRyS senior analyst, referring to the Bermudian muralist whose work he saw that morning in the Museum.
Mathew Clingerman, KRyS managing director, called the Museum a Bermuda icon. His group was here to work through weather and do a good job.
Giving back, he said, was a pillar of their company. "This is just a small way in which we can benefit local families and tourists alike that want understand and appreciate important parts of Bermuda's history"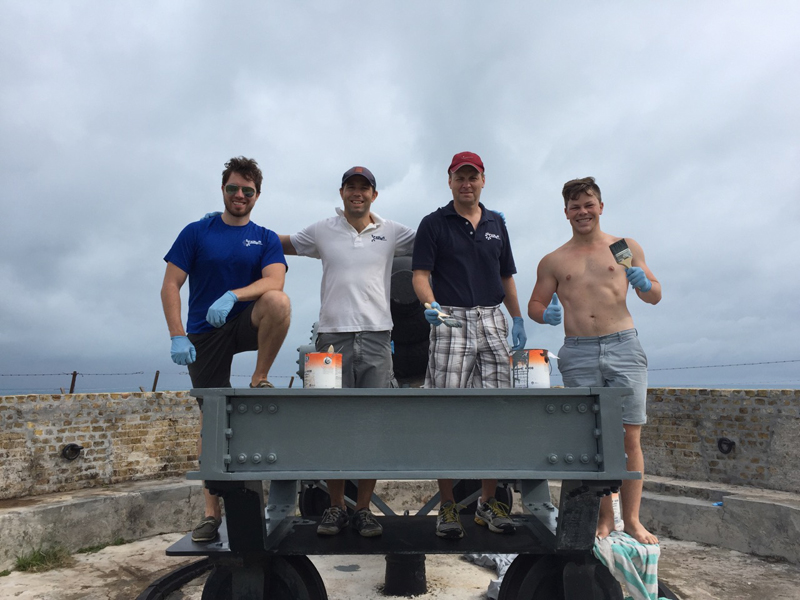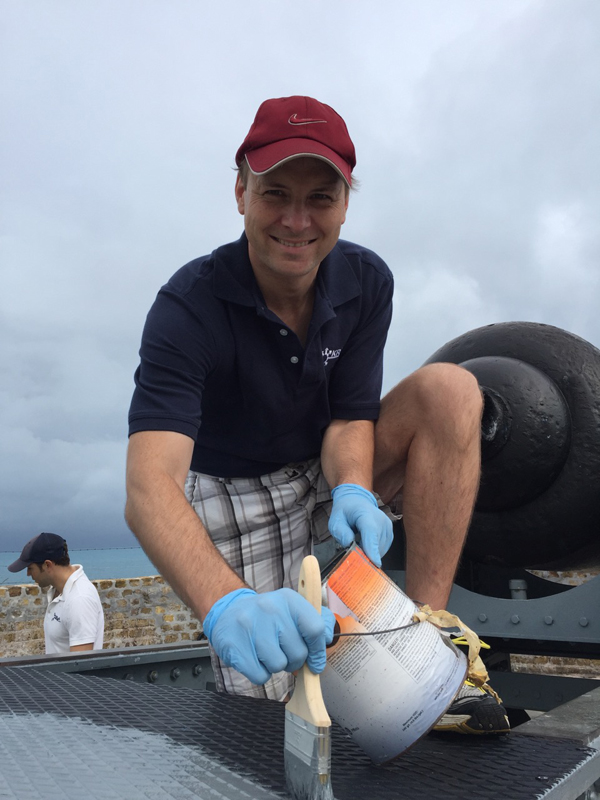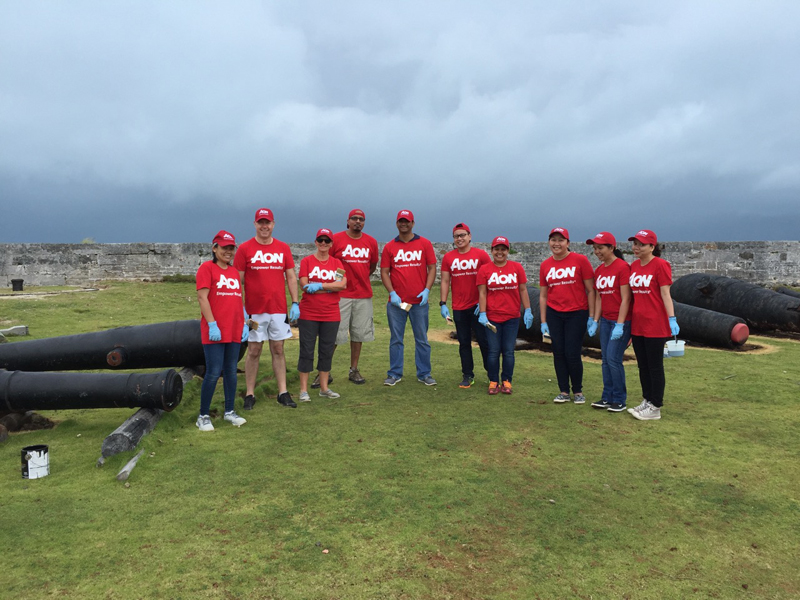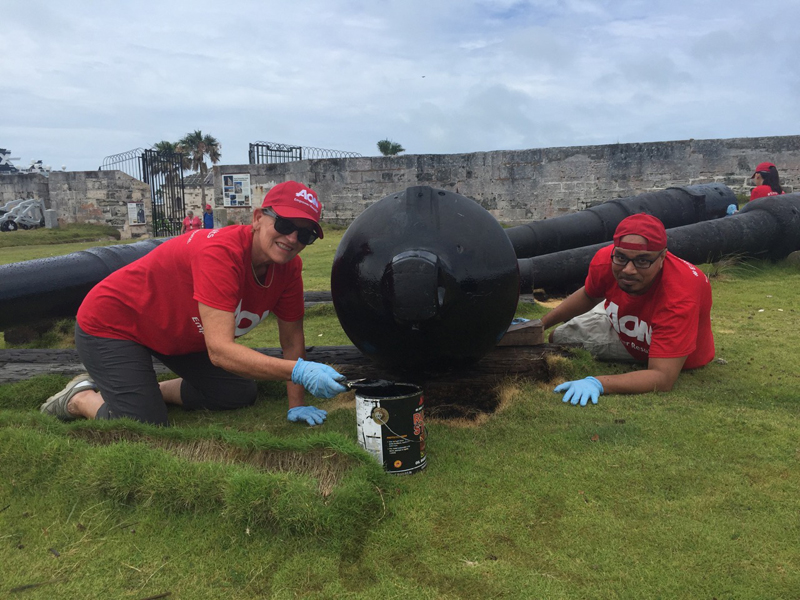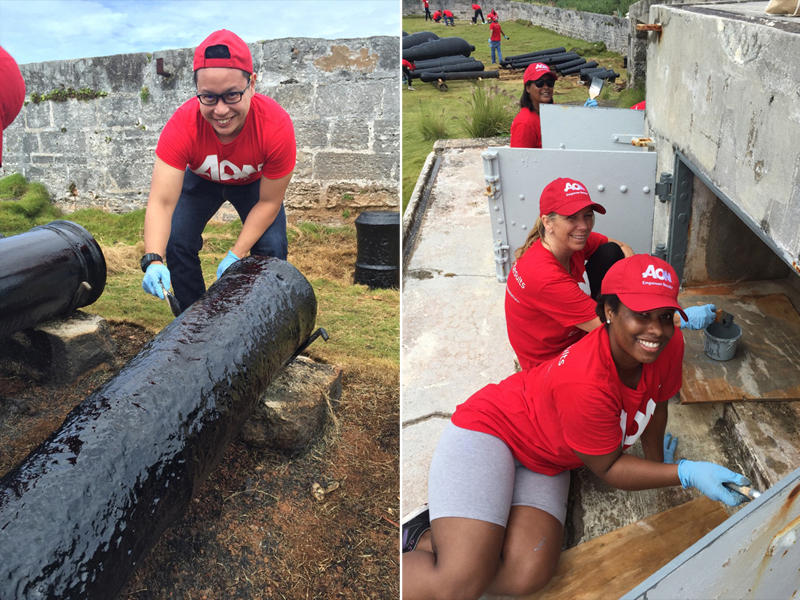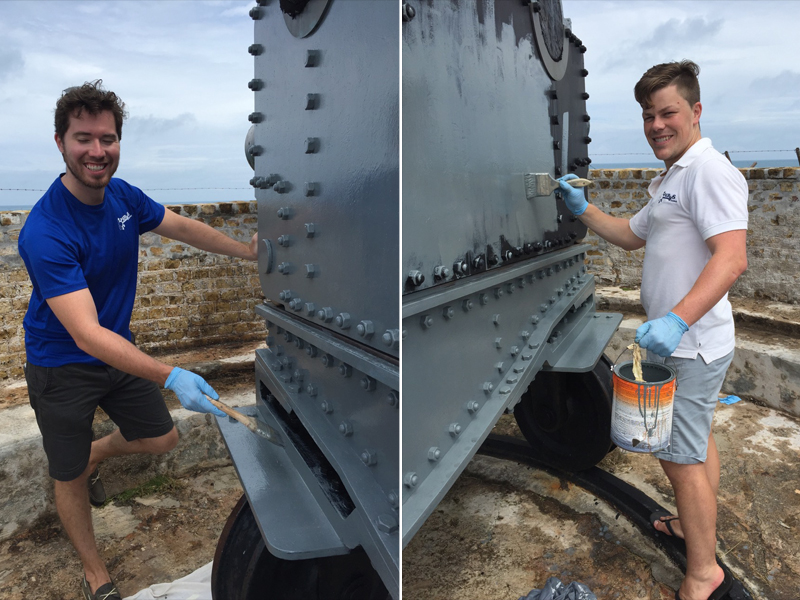 Read More About