In what is being called a "stunning result," British voters took to the polls yesterday [June 23] in deciding to cut ties with the European Union, resulting in the resignation of Prime Minister David Cameron soon after.
When all was said and done, the United Kingdom voted 51.9 percent to 48.1 percent to leave the EU after 43 years.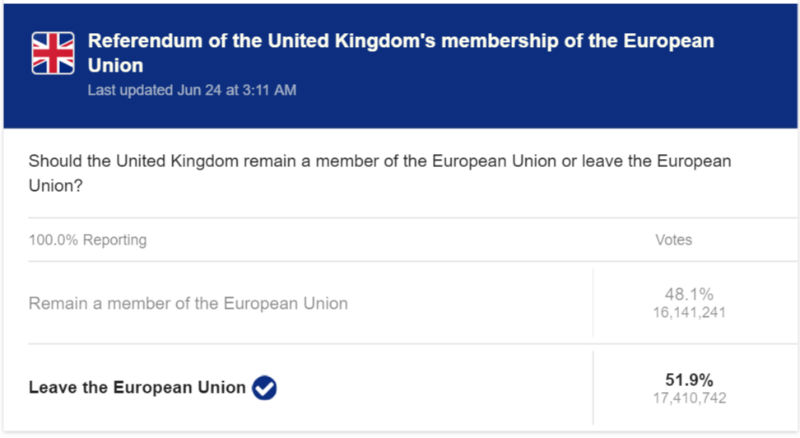 A story in the Washington Post said, "British voters defied the will of their leaders and international allies by cutting ties with the European Union in a stunning result Friday that threw financial markets into turmoil and forced Britain's prime minister to resign."
"As Britain absorbed the earth-shaking news, the political fallout reached to the highest level with Prime Minister David Cameron saying he would step down after championing the campaign to remain in the European Union."
Live Stream:
A BBC story said, "The referendum turnout was 71.8% – with more than 30 million people voting – the highest turnout at a UK-wide vote since 1992.
"The European Parliament is to hold an emergency session on Tuesday to discuss the referendum result.
On Twitter, EU Parliament president Martin Schulz called for a "speedy and clear exit negotiation."
"Once Article 50 has been triggered a country can not rejoin without the consent of all member states. Mr Cameron previously said he would trigger Article 50 as soon as possible after a Leave vote but Boris Johnson and Michael Gove who led the campaign to get Britain out of the EU have said he should not rush into it.
"They also said they wanted to make immediate changes before the UK actually leaves the EU, such as curbing the power of EU judges and limiting the free movement of workers, potentially in breach of the UK's treaty obligations.
"The government will also have to negotiate its future trading relationship with the EU and fix trade deals with non-EU countries."
Read More About