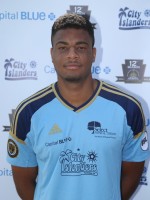 Bermuda's Dante Leverock scored for the Harrisburg City Islanders to help push them to a 2-1 victory over the Pittsburgh Riverhounds, with the Bermudian footballer also being named the 'Man of the Match.'
The club's match report said, "The Harrisburg City Islanders tallied twice in the opening half and held off the Pittsburgh Riverhounds for a 2-1 victory on Sunday at Highmark Stadium in the Keystone Derby clash
"Dante Leverock and Jose Barril each scored in the first half to lift the City Islanders.
"Pittsburgh captain Kevin Kerr put his side on the score sheet in the 60th minute for a long-awaited goal. Harrisburg posted its second road win of the season [2-7-1] and improved to 5-13-2 [17 points] overall."
"The City Islanders broke through on a corner kick chance as Jose Barril delivered the ball from the left side finding Dante Leverock who rose well over the Hounds' defense and headed it home for a 1-0 lead in the 28th minute.
"Then four minutes later, Barril tallied a goal for himself shortly after a throw-in sequence. Cardel Benbow had the initial shot, which was turned away by Pittsburgh goalkeeper Mauricio Vargas. Barril's rebound took a deflection and trickled across the goal line for a 2-0 cushion in the 32nd minute."
In naming Dante Leverock the 'Man of the Match', the Club said: "Leverock headed home an impressive opening tally, beating the Pittsburgh defense at the far right post off of a corner kick to give the City Islanders the early momentum.
Leverock and the Harrisburg City Islanders will next take on Bethlehem Steel FC on July 21st.

Read More About